Press release
One of Scotland's oldest charities is launching a new name and vision on World Sight Day as it unveils research which shows the number of Scots with sight loss is set to increase, with someone in Scotland starting to lose their sight every hour.
Today, First Minister Nicola Sturgeon officially launches the new name of Royal Blind as Sight Scotland and its sister charity Scottish War Blinded as Sight Scotland Veterans. With a growing number of people in Scotland losing their sight, the charities have set out plans for their new ambition to reach out and support significantly more people with sight loss across the whole of the country.
The charities have also undertaken the biggest survey of people with visual impairment in Scotland since lockdown. Over four hundred people living with sight loss took part, and over two thirds said they felt their sight loss had made lockdown a more difficult experience.
Officially launching Sight Scotland and Sight Scotland Veterans, First Minister Nicola Sturgeon said: "I am delighted to launch Sight Scotland and Sight Scotland Veterans as the charities set out their plans to provide support to more people living with visual impairment in the future.
"The Scottish Government is taking action to ensure that people living with sight loss in Scotland can receive the treatment and care they need, our recent Programme for Government includes £3 million to fund community optometrists to support hospital patients with sight threatening conditions whose appointments were paused due to COVID-19.
"Early detection of eye problems is also vital and we are the only country in the UK to universally fund free eye examinations.
"We look forward to continuing to work with Sight Scotland, Sight Scotland Veterans and other partners in the third sector to ensure that everyone in Scotland living with a visual impairment receives the very best support."
Mark O'Donnell, Chief Executive of Sight Scotland and Sight Scotland Veterans said: "This is an important day in the history of our charities. For over two hundred years we have worked to support people with visual impairment of every age. Today, we are excited to be launching our new charity names and vision so that we can play our part in supporting even more people living with sight loss in Scotland.
"Our research shows we must ensure more people can get help if they develop a sight loss condition and know where to find it. We are taking forward plans to provide more services in the community, including supporting more pupils with visual impairment in mainstream schools as well as our specialist school. The number of people who are blind or partially sighted in Scotland is set to increase by 30,000 in the next decade to over 200,000, and for a wider range of conditions our research shows every hour at least one person in Scotland starts to lose their sight. They need better support to live well with sight loss. Sight Scotland and Sight Scotland Veterans will work with the Scottish Government and many other partners across Scotland to reach more people living with visual impairment."
Angus Dixon is a pupil at Ross High School in Tranent who has been supported by specialist visual impairment teachers from the Royal Blind School through a ground-breaking partnership between Sight Scotland and East Lothian Council.
Angus said: "It is important that the services provided by Sight Scotland and other charities are there for people with visual impairment. It would be really difficult if that support wasn't there. The specialist support I have received at school has been so important to me and now I'm looking forward to the future after school, doing more as a DJ and hopefully working in computers and technology."
Bryce Campbell, 86, of Edinburgh, is a National Service veteran with glaucoma who receives support from Sight Scotland Veterans. He said:  "It was the best decision I ever made to attend the charity's Linburn Centre in Wilkieston. I'm back to being Bryce. They have taught me cooking skills adapted to sight loss to help me keep independent at home. They even helped me to experience cycling again through tandem cycling. I used to think that I didn't need anyone, but when you're going through sight loss and you have the support there it really is a huge help."
ENDS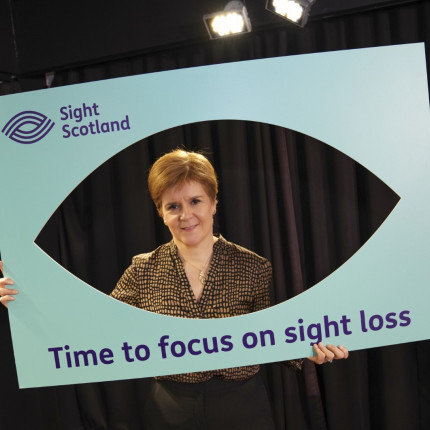 Notes to Editors
1. Incidence estimates have been researched by Sight Scotland/Sight Scotland Veterans based on Freedom of Information Requests to health boards on numbers of people diagnosed with sight loss conditions ; the RNIB Sight Loss Data Tool; and FOIs on cataract operations in 2019 to health boards in Scotland by Sight Scotland.
2. Survey conducted by Sight Scotland and Sight Scotland Veterans of 404 people with visual impairment of over August and September 2020. "Do you think lockdown has been an easier experience for people who are fully sighted?"
Yes 281 No 113 Not sure 5
5 people didn't respond to this question but answered others in the survey