We have grown from humble beginnings as a foundation providing meaningful work for a handful of blind and partially sighted people. We have evolved over the past two centuries to become the largest visual impairment organisation in Scotland.
Here is our story so far.
Our History
1793
Our foundation
Royal Blind (now known as Sight Scotland), founded by Reverend Dr David Johnston, Dr Thomas Blacklock and Mr David Miller in 1793, was the third foundation in the world that was dedicated to improving the welfare of blind people.
That year, we established an educational unit providing lessons in handcrafts, mental arithmetic and scripture recitation lessons. Early fundraising initiatives enabled us to rent a covenant house on Edinburgh's Shakespeare Square (now Waterloo Place), where we welcomed an admission of nine trainees. They were taught handcrafts as a means of gaining employment and actively supporting themselves. His Grace, the Third Duke of Buccleuch, became the first President of Royal Blind, beginning an association which continues to the present day with Sight Scotland.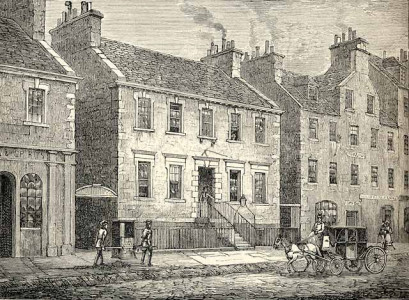 1806
New premises at Nicolson Street
As public support for Royal Blind (now Sight Scotland) grew, the organisation purchased permanent premises at 58 Nicolson Street, Edinburgh. Male trainees from Shakespeare Square continued to learn handcrafts. They produced mattresses, mats, brushes and baskets which could be purchased by the public visiting the showroom. In 1822, a further premises at 38 Nicolson Street was purchased to provide women with an opportunity to develop employability skills, producing various knitted and sewed products.
Throughout the 19th century, many people flourished there as highly skilled workers who could contribute substantially to their own support. The quality of their work was recognised at many international exhibitions.
1825
First residential care service opens
We began providing residential care for blind women in 1825 at 1 Hill Place, Edinburgh. The facility welcomed an initial intake of 25 women ranging from working age to older age.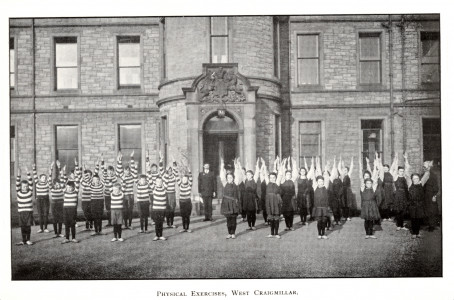 1875
The Royal Blind School at Craigmillar Park
Our educational unit amalgamated with The School for Blind Children, founded by Mr James Gall in 1835, which was based in Craigmillar Park, Edinburgh. Children attending the school had lessons in arithmetic, Braille printing, English, geography, history and recitation. Older children received additional tuition in organ and piano playing.
1876
Residential care at Craigmillar Park
Our Hill Place residential care residents were transferred to the Craigmillar Park premises following the amalgamation of Royal Blind's education unit and The School for Blind Children in 1875.
1891
Our braille production begins
A department of the Royal Blind School began commercial braille production at Craigmillar Park. The early days of this service concentrated on the production of religious and educational materials in braille.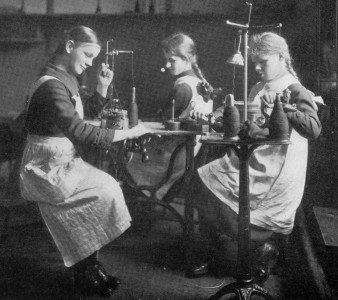 1898
Royal Charter
Royal Blind's Royal Charter of Incorporation recognised our operating units as: industrial department, home for poor blind women, school for blind children and department in printing, typing and piano-tuning. Objectives included promoting the welfare of blind people, education, training, employment, supplementing salaries, providing aid in sickness and old age, and granting aid to ''indigent blind in all parts of Scotland''.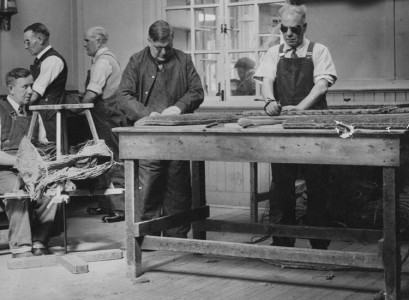 1915
Our sister charity
Royal Blind (now Sight Scotland) established our sister charity, Scottish War Blinded, to help soldiers blinded in World War One. Now known as Sight Scotland Veterans, today our sister charity supports veterans with sight loss across Scotland, no matter how or when they lost their sight.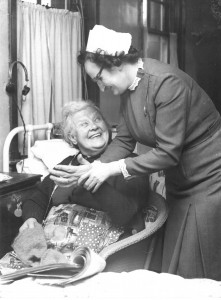 1929
New home for residential service
The Thomas Burns Home, named after Royal Blind Chairman Reverend Dr. Thomas Burns, was constructed and opened in 1929, providing dedicated premises for our residential services on the Craigmillar Park campus. The home provided residential rooms, workspaces and recreational areas for blind women.
As residents grew older, the provision of nursing care replaced many of the industrial activities that flourished at Craigmillar Park. Oswald House was purchased in 1946, providing a home for blind women due to the increasing need.
1933
Our school provision grows
In September 1933, our school was completely reorganised to extend the provision of secondary education and accommodate blind pre-school children. Pupil intake rose. When war broke out in 1939, the Royal Blind School remained open throughout World War Two.
1945
Muirburn House opens
A period of considerable development for the Royal Blind School took hold when the war ended. Additional buildings and facilities for pre-school and younger primary school children were purchased. In 1953, the school opened Muirburn House, providing education to visually impaired children with additional disabilities.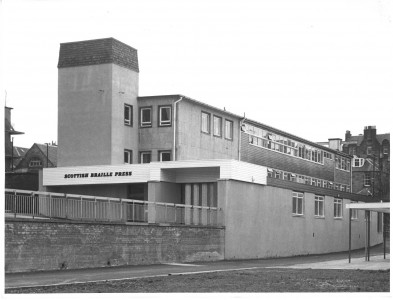 1953
The Scottish Braille Press
Our braille production service moved into an independent purpose-built facility on the Craigmillar Park campus under the operating name of the Scottish Braille Press.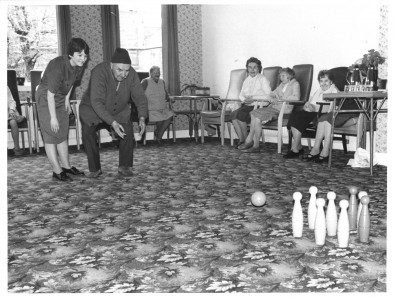 1970
Our residential home extends
With demand for residential care places exceeding capacity at the Thomas Burns Home on the Craigmillar Park campus in the 1960s, the home was extended thanks to fundraising by a public appeal, led by the Earl of Haddington. Oswald House remained open until 1969, when all care was transferred to the Thomas Burns Home. The newly constructed home was opened by Queen Elizabeth the Queen Mother in 1970. In 1979, the home was further extended to welcome male residents.
1987
Our Morningside campus
The Thomas Burns Home and Muirburn House merged at a new facility in Morningside, Edinburgh – where the Royal Blind School is based today. Canaan Lodge and Canaan Home were completed in 1991 and officially opened by the Duke and Duchess of Buccleuch.
Canaan Lodge was Scotland's first purpose-built school for pupils with multiple disabilities as well as visual impairment (MDVI). The facility included five inter-connected houses, accommodating six pupils and staff, and had a sports hall, hydrotherapy pool, centres for speech therapy and physiotherapy, medical room and sheltered play areas. Its design encouraged pupils to develop independent living skills within a safe environment. Canaan Home provided residential and nursing care for older people with sight loss.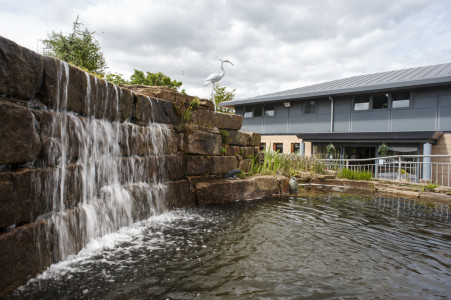 1999
Braeside House opens
Residents remained at Canaan Home in Morningside until 1999, when they moved to Braeside House in Liberton Brae, Edinburgh – our purpose-built care home for visually impaired older people. Braeside House still provides exceptional residential and nursing care for our residents today.
2010
Forward Vision established
We extended our adult services, opening our Forward Vision residential care service in Morningside, Edinburgh. Forward Vision provides 24-hour personalised care for 14 young adults who are blind or partially sighted and have additional disabilities, encouraging greater independent living skills.
2012
Education strategy revised
We revised our education strategy in response to greater numbers of visually impaired pupils integrating into mainstream schools with the assistance of local authority special units for pupils with disabilities. As a result, the Craigmillar Park and Morningside campuses merged.
2014
Morningside campus welcomes Craigmillar Park pupils
In August 2014, Craigmillar Park pupils joined fellow pupils at the newly refurbished Morningside campus. The re-developed school was officially opened by our Patron, His Royal Highness the Duke of Gloucester.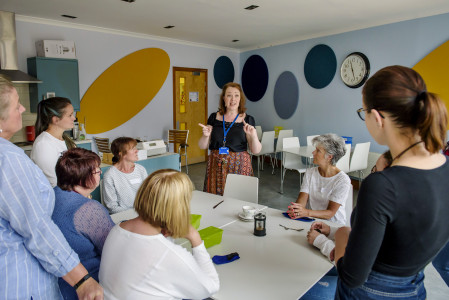 2015
Supporting mainstream education
We launched a new service, the Learning Hub, which shares the expertise of the Royal Blind School with teachers and other education professionals in mainstream schools teaching visually impaired children.
2016
Allermuir established
We further extended our adult services, opening Allermuir at The Inch, Edinburgh. Allermuir is a home for life for four adults who have a visual impairment and additional disabilities and who need 24-hour care and support.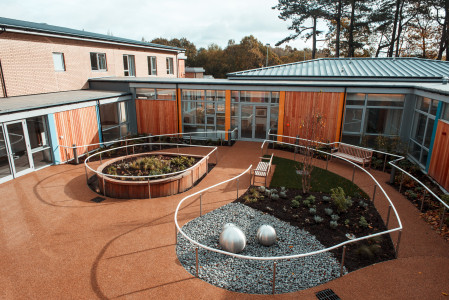 2017
Jenny's Well opens
In January 2015, we announced plans to build a second care home for visually impaired older people in Paisley in the West of Scotland. Our Jenny's Well Care Home welcomed its first residents in October 2017.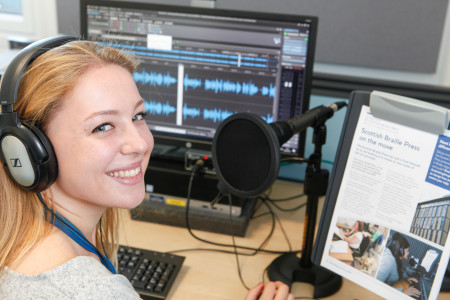 2018
New home for the Scottish Braille Press
In March 2018, the Scottish Braille Press moved from Craigmillar Park to its new, modern home at Robertson Avenue in Edinburgh. Today, the Scottish Braille Press is a leading UK provider of accessible media, transcribing documents such as books, legal documents and bank statements into braille, large print and audio formats.
2018
225th anniversary
In October 2018, as one of Scotland's oldest charities, we celebrated our 225th year supporting blind and visually impaired people.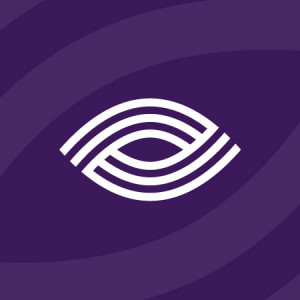 2020
Sight Scotland
On October 8, we launched as Sight Scotland. Our new name represents a new era of change and growth, focusing us on the issue which matters most: tackling the impact of vision loss together.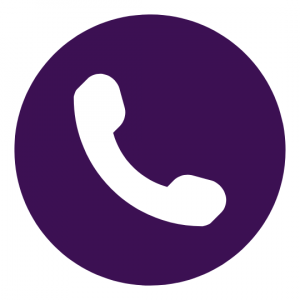 2021
New Community Services
Sight Scotland launched a telephone helpline providing expert advice and support for people with sight loss, as well as for their families, carers and friends.