Life-changing.
Those are words we hear often from people who come to us for support.
Everyone at Sight Scotland and Sight Scotland Veterans, whether they work directly with the people who use our services, or support our front-line colleagues, plays a part in helping people with sight loss to live fulfilling lives. That's why our careers are so rewarding. 
Current vacancies
Across Scotland we have over 400 colleagues in rewarding careers which offer opportunities and growth. Take a look at our current vacancies to see what part you could play.
Working with us
We are determined that no-one should face sight loss alone. Colleagues across our organisation are working to make sure we can reach, support and empower many more people. It's an exciting time to join Sight Scotland and Sight Scotland Veterans.
We offer lots of different jobs, which require different skills. But whatever your role and wherever you work, you'll live our values every day.
Transform: We transform outcomes for people with sight loss 

Unite: We connect with partners and communities to support more people

Thrive: We care about those we work with and want them to flourish
They guide us in the decisions we make and the actions we take at work. Our colleagues bring them to life in everything they do.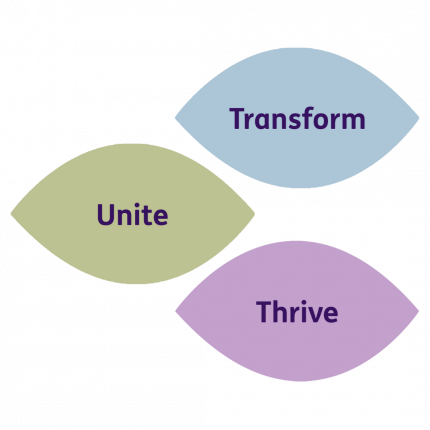 Benefits of careers with us
We want all of our people to thrive, and feel supported in carrying out the essential work they do. We care for and invest in our colleagues.
Here's a summary of the employee benefits we can offer you in exchange for your skills and commitment to us.
Find out more about our employee benefits
What our people think
"I love being part of such a qualified and skillful team that are also so caring. Sight Scotland have so much to offer and fulfil so many of the lives of the young people and young adults within our care."
"I started as a centre officer in June 2019 and can honestly say it was the best decision I've ever made. I love it! I think the ethos and values of the organisation are fantastic."
A workplace where everyone can thrive
We're committed to creating a working environment that is representative of different cultures and groups. where everyone has an equal chance to succeed.
We have an equality, diversity and inclusion forum which allows colleagues to raise, and discuss, topics around equality. This helps us spot and address any issues, as well as find opportunities to improve inclusivity in what we do, and how we do it.
We're proud to be a Disability Confident employer, and are committed to being an employer of choice for disabled people. 
Find out more about equality, diversity and inclusion, the actions we're taking and our Equality and Gender Pay Gap reports.
About our recruitment process
At Sight Scotland and Sight Scotland Veterans our recruitment process is fair, transparent and inclusive. All appointments are made on individuals merit using a fair and robust selection process.
Applying for a vacancy
To apply for any of our vacancies you need to create an account. Once you've made a profile, you can apply for the role you're interested in using the application form. If you need the application form in an alternative format, please contact us at people@sightscotland.org.uk.
As a Disability Confident employer, we're committed to being an employer of choice for people with disabilities. We will offer an interview to anyone with a disability whose application meets the minimum criteria for the job in the Job Profile.
After applying
You'll see the closing date of the vacancy on the job advert. Once the advert closes we complete our Shortlisting process.
The selection panel agree the final shortlist. In some cases, depending on the role, you may be invited to take part in a telephone screening interview before being invited to a face-to-face interview.
We aim to let all applicants know the outcome of their applications within three weeks of the closing date.
The interview
Our interview process can vary depending on the role; however, all roles will involve a face to face interview. Some roles may also involve:
Asking you to prepare a presentation,

Asking you to participate in a role play,

A skills test.
We will always advise you of the format of your interview when we send you your invite to interview.
If you require any adjustments made due to a disability, please let us know in advance.
You may also be interested in
For 230 years, we have been supporting people with sight loss and blindness. We are one of Scotland's oldest charities and we're dedicated to empowering people with visual impairments to lead fulfilling lives.
Volunteers are our everyday heroes. They shape lives for the better, and find new skills for themselves in the process too. Week after week, our volunteers empower people impacted by sight loss to feel less isolated and regain confidence.
Our work to tackle vision loss is transforming lives across Scotland. Together, we're empowering people to lead fulfilling lives.