Sight Scotland provide specialist local services to people with visual impairments and sight loss who live in Edinburgh, Midlothian and East Lothian.  
Our expert team will support people affected by sight loss to learn or re-gain essential living and mobility skills. 
Rehabilitation and mobility support 
Living with sight loss can be challenging. If you live in Edinburgh, Midlothian or East Lothian, our rehabilitation and mobility team provide the help and support you need, so you can maintain your independence.   
We can be there for you following diagnosis. If you need specialist support, we will plan together how we can help. 
How we can help
Our team provide practical guidance so that you can keep doing the everyday things that are important to you. Together, we'll develop essential skills to live safely at home, and to navigate the world with confidence.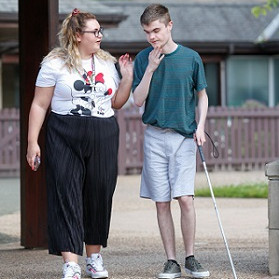 Want to speak to us about our rehabilitation services? Call our specialist team on 0131 385 7488
You may also be interested in
Download Sight Scotland's guide on activities and care for people living with dementia and sight loss.
The guide available to download below outlines information on common eye conditions and ideas to help you support an older person with sight loss, both in a care setting and at home.
How mindfulness benefits blind and partially sighted veterans at Sight Scotland Veterans' Hawkhead Centre.