We enable companies to communicate with their customers in alternative formats.
Our award-winning team provide a fast, secure and highly accurate service, ensuring your business treats its customers fairly and complies with equality laws. For a quick quote, get in touch with our friendly customer services team today. 
We offer:
a range of formats
fast turnaround
experience of alternative formats and commercial print sectors
high standards of security accreditations.
Our customer service team can advise on the production of any printed document required in an alternative format, and will provide advice and quotes.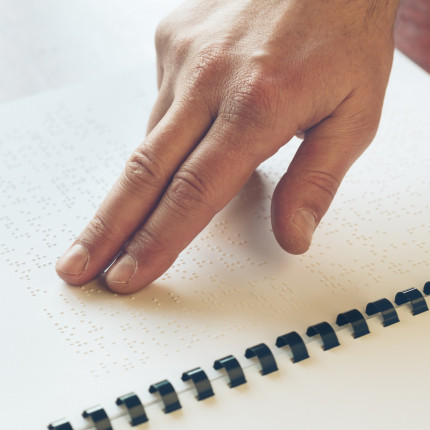 The Scottish Braille Press has a strong history and heritage in the production of braille and other accessible formats, providing people with sight loss with equal access to the written word.
Founded over 125 years ago, we are a commercial enterprise that was set up to provide employment for people with visual impairments. Today, we continue to provide employment opportunities for people with disabilities. We are proud to have been awarded the Disability Confident award. 
The Scottish Braille Press is part of the charity Sight Scotland, therefore all profits and fundraising are used to support the charity and our aim to help everyone in Scotland with sight loss that needs our help.
Connecting with customers
At Sight Scotland, we are committed to equality of access to information. The Scottish Braille Press enables businesses and individuals to provide and access accessible communication.
The majority of people with sight loss make use of accessible formats in large print, audio or braille.
Observing the Equality Act 2010
To comply with the Equality Act it is essential that public, private and voluntary sector organisations are able to produce their documents in alternative formats, if requested. 
Partnering with the Scottish Braille Press will enable your organisation to deliver these requests.