Our team of experts will reproduce documents in braille according to your exact requirements.
Typical documents include:
bank statements
letters
legal documents
terms and conditions. 
Our transcription can include tactile diagrams, numbers and tables. 
We can produce Grade 1 (Uncontracted) and Grade 2 (Contracted) braille to suit your requirements.
Braille is a system of raised dots, devised by Louis Braille in the 1820s. It is still vital today. Learn more about the power of the braille code.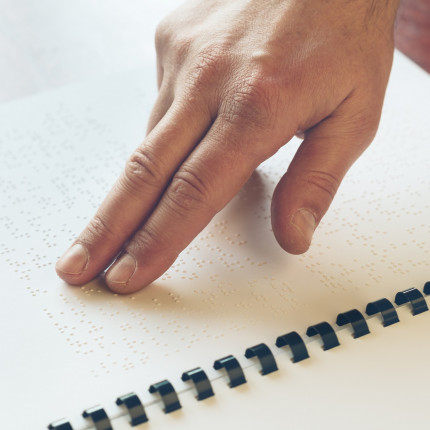 Transcribing documents into braille
Our braille transcription service goes through the following stages:

•    Your document is received. 
•    Our transcribers convert the document to braille.
•    The braille is checked by one of our proofing teams. 
•    Once the text is proofread and approved, the finished document is embossed, bound and delivered according to your instructions.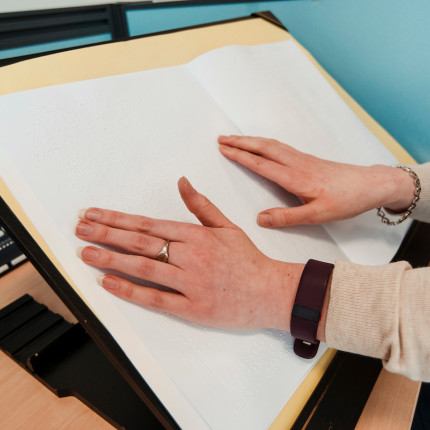 Binding and presentation 
Finished documents can be produced as single-sided or double-sided braille and are available in a range of sizes and different bindings, including treasury tagged, wire bound or wire stitched.
Our specialist equipment allows us to produce your documents in quantities ranging from a single copy to tens of thousands of copies. We can produce tactile diagrams and tables and incorporate them into your braille documents. 
We can finish with our standard binding and covers to your specification. Alternatively, we are happy to use your pre-printed covers.
 
You may also be interested in
Audio is an essential tool to reach blind and partially sighted people, as well as people with learning difficulties, dyslexia, or those who find it easier to listen to information rather than read it. 
Sight Scotland's Scottish Braille Press is an expert in producing large print documents to the sizes and formats accessible for people with sight loss.