Please note that as of October 2020, we now operate as Sight Scotland. Our former name, Royal Blind will appear in content, such as reports, produced before that date.
Scotland's largest vision impairment organisation has been recognised for paying its staff the real living wage.
Royal Blind and its sister charity Scottish War Blinded, which have their head office in Edinburgh, have been awarded Living Wage accreditation by Living Wage Scotland.
Image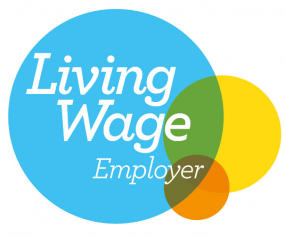 Their Living Wage commitment will see everyone working at the charities, regardless of whether they are direct employees or third-party contracted staff, receive a minimum hourly wage that is significantly higher than the statutory minimum for over 25s of £7.83 per hour introduced in April 2018.
It comes as employers across the UK are celebrating Living Wage Week, which runs from 4-10 November, and Living Wage Scotland set a new rate of £9 per hour.
Mark O'Donnell, Chief Executive of Royal Blind and Scottish War Blinded, said: "Royal Blind and Scottish War Blinded are proud champions of the real Living Wage and I am delighted to receive this accreditation during Living Wage Week.
"Our staff are critical to delivering the vital support that Royal Blind and Scottish War Blinded provide for blind and partially sighted people across Scotland. By paying the real Living Wage we aim to ensure our staff feel supported and motivated to continue delivering an outstanding level of service to the people who rely on our charities."
Royal Blind and Scottish War Blinded employ 627 people, with 82 of those receiving the Living Wage after the charities first introduced it in 2015.
The Living Wage is an hourly rate set independently and updated annually. The Living Wage is calculated according to the real costs of living.
Peter Kelly, Director of the Poverty Alliance said: "The real Living Wage is one of the key tools at our disposal to help make an impact on levels of in-work poverty in Scotland. There is a strong business case for paying the Living Wage; but crucially it allows those in work to become more included in society, better provide for their families, and feel that their value and hard work is recognised by their employer. We are delighted to congratulate Royal Blind and Scottish War Blinded on becoming Living Wage employers. I hope more organisations follow their lead by becoming accredited". 
Julie McGahan, Living Wage Scotland Manager said: "We are delighted to welcome Royal Blind and Scottish War Blinded to the Living Wage movement.
"We are a movement of over 1200 Scottish employers who together want to go further than the government minimum to make sure that all their staff earn enough to live on. We have lots of smaller employers as well as larger and iconic Scottish employers like SSE, Standard Life, Barrs, Mackies, ScotRail, D.C. Thomson and many more.
"These businesses recognise that the Living Wage accreditation is the mark of a responsible employer and they, like Royal Blind and Scottish War Blinded to join us, because they too believe that a hard day's work deserves a fair day's pay."