Please note that as of October 2020, we now operate as Sight Scotland. Our former name, Royal Blind will appear in content, such as reports, produced before that date.
A care home for blind and partially sighted older people has been presented with a prestigious food safety award.
Image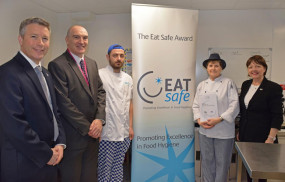 Staff from Jenny's Well care home in Hawkhead Road, Paisley, were presented with the Eat Safe award on Tuesday by Councillor Marie McGurk, and Oliver Reid, Head of Public Protection and Robert Marshall, Business Regulation Manager for Renfrewshire Council.

Jenny's Well has a rotating monthly menu. All food is prepared fresh on the premises and families are invited in to enjoy the home's delicious home baking and a cup of tea each month.

Jenny's Well Chef, Margaret Mcflynn said she was delighted to receive the award.

She said: "Having worked in care home kitchens for 25 years, food hygiene has always been of the utmost importance to me. I'm passionate about giving the residents the best possible food and dining experience as it is a simple but very important pleasure to most of them.

"Delicious and nutritionally balanced meals are a key part of what makes Jenny's Well such a comfortable and homely environment and the residents here enjoy mealtimes, not only because of the high quality meals on offer, but because it is a chance to socialise with their neighbours and our care team. All of our food is made fresh on the premises including our home baking which is a particular favourite of our residents and their families."

"This was very much a team effort. We opened our doors in October 2017 and food hygiene has been a key priority since day one. Everyone in the team works hard to maintain our extremely high standards and we are delighted to receive the Eat Safe award which recognises this work."

The Eat Safe scheme is run by national agency Food Standards Scotland and is open to all types of food outlets, from casual cafés to five star restaurants. 

Eligible establishments are assessed for the Eat Safe Award as part of their scheduled food hygiene inspections carried out by councils. Awards recognise excellence in food hygiene, training and food safety management, and are only made when a business has achieved consistently high standards beyond those required by law. Consumers can be assured that the food served in awarded premises is prepared with the utmost care.

Since the Eat Safe scheme launched in Scotland in 2005 1,173 premises in Scotland have achieved Award standard. In Renfrewshire 13 food businesses currently hold the award.