Please note that as of October 2020, we now operate as Sight Scotland. Our former name, Royal Blind will appear in content, such as reports, produced before that date.
What does the day in the life of a Royal Blind specialist care home for older people like?
Here's a blog from Stephanie Kirkwood, Meaningful Activity Assistant at Jenny's Well:
"Here, at Jenny's Well the daily running of the home can be eventful, ever-changing, challenging, however, it is always different, " Stephanie says.
"Most days, start off the same; with breakfast. Our residents always enjoy either a cooked or continental breakfast. From here, residents can do as they please and there is always plenty of choice!
"One of our most popular activities is a morning exercise class which gets everyone set up for the day. Exercise classes are seated to allow it to be to as inclusive as possible. On occasion, residents prefer to do it individually or in pairs and we're happy to facilitate to their needs.
"After a morning activity, we usually do a newspaper group. Residents at Jenny's Well are still very interested what is happening in the world - we usually go off on tangents about life, and it's lovely to find out more about each other this way - we chat about how the world has changed, where residents have been on holiday and all those little stories.
"We find that chatting and spending some time just talking to our residents, learning about their life always helps to reduce any anxiety or agitation residents might be experiencing throughout the day. Our residents are all very interested in what we as staff are up to in our lives. Which is very lovely and it makes Jenny's Well feel like one big family!  
"Residents can please themselves when it comes to where they spend their time, which tends to be in one of the lounges. The lounge areas are categorised into films, music and relaxation. There is also a balcony upstairs and a garden downstairs. Then it's onto lunch! 
"Our residents have a fantastic menu, which changes daily - Margret and her team in the kitchen are marvellous! Jenny's Well staff are always around to support residents during lunch. But when we're not helping and the residents have finished their food, all that can be heard is the sound of laughter as residents and staff joke with each other. Having this superb relationship between staff and residents is helpful if someone is feeling low. Our residents know that someone will be there who knows just what to say to support and assist in making that individual feel at ease. This is particularly important for our residents who have dementia. 
"After lunch, residents are offered an afternoon activity which changes week by week! For example, we have performers come in on a regular basis. Our residents thoroughly enjoy singing along, tapping their feet or even dancing.  
"Other activities include a football memories group, knitting, skittles (which can get quite competitive!), baking, reminiscing, art and crafts, day trips away and more.
"Residents then go onto have dinner, which is followed up with a relaxing evening. Residents tend to chat with each other, or sometimes go for a walk around Jenny's Well.
"Throughout the day there are some residents who don't want to take part in activities. These residents are supported through one to one sessions with staff, with the aim of avoiding social isolation and provide the right support they need. These sessions are set up to whatever the resident wants – whether it's a walk in the garden or a private chat in the living area, we are here to help our residents feel at ease, doing so on their terms. 
"I truly feel that the work we do, providing meaningful activities and support, continues to make residents happy and enjoy their life!"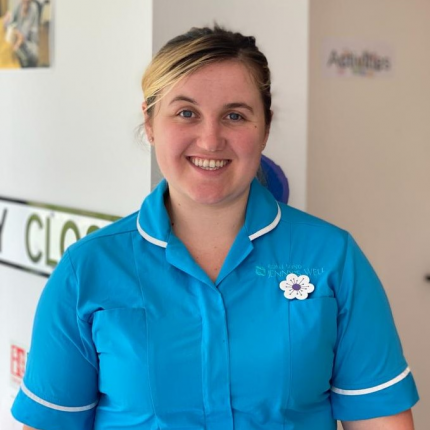 Sign up for our E-Newsletter
You'll receive all the best stories from Sight Scotland in our E-Newsletter.
Click below to visit the Contact Us page, then tick the box at the bottom to subscribe for email updates