Fiona is a rehabilitation officer with Sight Scotland Veterans. With extensive experience of support roles within opticians services, a hospital eye clinic and as a social work assistant for Seescape's Sight Support Team in Fife, she was driven to pursue a career in rehabilitation and support people to adapt to life with sight loss.
She qualified as a rehabilitation officer in 2019, and joined Sight Scotland Veterans that same year as part of the charity's expert rehabilitation team.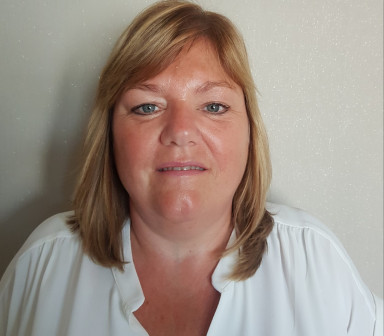 Could you describe your responsibilities in your role?
"I carry out individual assessments with veterans in their homes, recommending suitable specialist equipment and adaptations and providing training to help them regain and maintain their independence. The charity provides anything I and my rehabilitation colleagues recommend to Sight Scotland Veterans members free of charge.
"I have a list in my head of the things I want to talk to members about when I visit. I'll find out about their eye condition and how it's affecting them. I assess for magnification and lighting, which are key things for many of those we support. I find out whether they already have equipment that's working for them and look at the home layout to identify any simple changes we can make to keep routes clear and maximise lighting.
"For example, if someone is struggling in the kitchen we can give training in skills like chopping, make sure the kitchen's set up safely and there's enough lighting. We'll do mobility assessments and carry out route and cane training depending each on individual's needs.
"One of the main things people we support wish for is to be able to read again or continue a hobby, so we look at magnification and solutions to try and achieve that. It's so nice to be able to give someone a bit of their independence back.
"There are so many tips we can provide that can make a difference and are so important for independence and wellbeing. It's really important to work with family members too where we can. We can provide information to help them understand the challenges their relative is facing with their sight and how to support them."
What does an average working week involve?
"I work remotely from home in Fife and travel via car to visit veterans supported by Sight Scotland Veterans. I cover the whole of Scotland, but usually Fife, Perth, Dundee and Angus.
"I really like travelling around. I'm out visiting members around four days a week. Depending on locations, I'll usually do two or three visits in a day. Then I'll have a day at home for admin when I'll write up all my assessments, linking up with the team's rehabilitation assistant to order specialist equipment I've recommended. I'll also do that if I've had a shorter day on the road and get back home earlier.
"Our rehabilitation team is based across Scotland, but we're always at the end of the phone to support each other and share our expertise.
"I thought I'd miss working in an office environment but I actually really like working remotely. The team are just at the end of the phone. We call and text each other and we've got a rehabilitation team Facebook group together. I can talk to any one of them and we support each other. We've all got our different strengths – it's a really good team, it's lovely."
What training and development has been available in your role?
"My managers have total trust in our assessments and recommendations for our members. They believe in you and trust your ability to assess someone properly. They are so supportive.
"If I see any training I'd like to do, I just need to ask and we're encouraged to do it. So far I've done courses in lighting, mental health and dementia awareness training. We also run visual impairment awareness training for all Sight Scotland Veterans and Sight Scotland staff as well as anyone that works with us. It's all great for personal development and progression. That's another great thing about working for this charity."
What's the most fulfilling part of the role for you?
"For me, the most fulfilling part of the job is seeing somebody become independent again and not having to rely on others. I also love to hear the members' stories. I just love meeting them. It's a really rewarding job.
"The charity is able to provide all of these different types of equipment to the people it supports. In previous roles I used to refer any veterans with sight loss I worked with to Sight Scotland Veterans and would see for myself how people could live independently with these pieces of equipment.
"Vision is not just about a measurement on a chart or how much you can see, it's much more than that. I just like being able to give somebody a wee bit of hope."
What makes a Sight Scotland Veterans rehabilitation officer?
"In addition to being a qualified rehabilitation officer, you need to be approachable and personable and able to relate to people from different walks of life. You need to able to adapt and be chatty and patient.
"As an outreach rehabilitation officer, you need to like travelling and driving as well as be able to work independently. You always have the back-up of your team but you're usually out there on your own, so you've got to be well organised for organising your case load.
"This job really tests your abilities to think outside of the box and it's great when you come up with a solution that gives someone some independence back, as is sharing thoughts and ideas with colleagues. We have years of experience within the team. I love it, it's the best job I've ever had."
You may also be interested in
Learn more about how Sight Scotland Veterans' expert rehabilitation team could support a veteran with sight loss you know to regain and maintain their independence.
We've been around since 1915, and we're here to offer support across Scotland for veterans of the Armed Forces who need us today.