"I've been getting long cane training from Katrina, one of the charity's rehabilitation officers, so that I'm not afraid to use my long cane. I've been re-empowered to use equipment in the kitchen and to travel again through the charity's training and support."
 
Sight loss can take away so much. But it doesn't have to be that way. We can restore independence and rebuild lives.
With a helping hand from our expert rehabilitation team, veterans discover that life after sight loss needn't be such a scary place.
For many, providing a simple piece of equipment and a guiding voice on how to make the most of it can transform their life. From reading that first piece of mail in a long time, to making a loved one a cup of tea safely once more, time and time again we support veterans to make the first step towards being as independent as possible.
Whether it's getting to grips with a long cast aside hobby like model making, or getting safely to and from the shops, our team equip veterans with the skills and tools to thrive and live the life they want.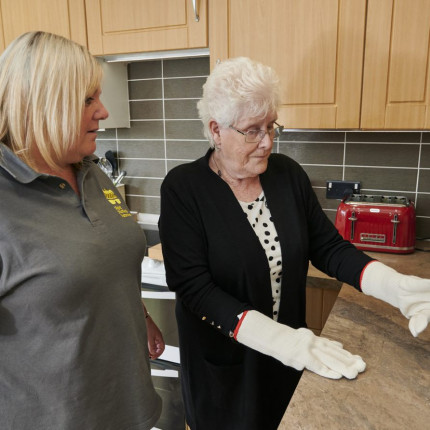 We're here to help you thrive
We help veterans to learn the new skills needed for adapting to sight loss. Our team instil the confidence to manage everyday tasks that can seem overwhelming after sight loss. We provide one-to-one support at home and out and about. 
Assistive equipment and technology can open up a new world. We help veterans choose the best possible devices to match their lifestyle, and provide this specialist equipment free of charge – first ensuring that it is right for each person and their goals. 
Often, working together to find the simplest strategies and solutions makes the biggest difference. Our team believe that nobody should face sight loss alone. And that's where our support comes in. 
Get support with living independently
Do you know a veteran who'd like a helping hand? Complete our enquiry form and we'll give you or them a call shortly.
You may also be interested in
We're committed to responding to every individual's interests, enabling the joys of life to be regained or newly discovered.
Veteran Agnes Houston MBE has neurological sight loss as a result of dementia. She regularly attends Sight Scotland Veterans' Hawkhead Centre and has received long cane training with the charity's rehabilitation team.