Everything we do at Sight Scotland Veterans is personal. We make one-to-one connections and are generous with our time. People are listened to, not just heard. Treated as individuals and valued for who they are.
Our offer is as diverse as those we support. We know that everyone faces different challenges and that everyone's goals are individual. That's why our team work with everyone in the way which is right for them. 
We give support that ranges from practical advice and identifying solutions that help you stay as independent as possible, to vital emotional support and opportunities to meet others facing sight loss.
Wherever you are, whatever you like to do, we're here to help you thrive.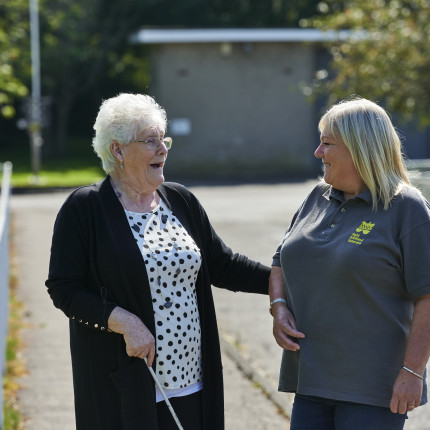 Can we help you? 
Sight Scotland Veterans provides support to all veterans in Scotland who are experiencing changes to their sight, regardless of the cause, or what point you are at.  Sight impairment is to be interpreted as any veteran, at any age, who feels they are currently struggling with their sight, or can expect to, following a diagnosis. 
We can also support you if you are caring for a veteran with vision loss, whether you're a family member or friend. 
We define veteran as someone who has served in the armed forces, specifically the Army, the Royal Air Force together with the RN Reserve, the TA and the RAF Reserve, and the Merchant Navy and Nursing Services when in active war service.
You must be a resident of Scotland to receive support from Sight Scotland Veterans. 
Get expert advice and practical help for yourself or a veteran you care for