"My Synapptic tablet has been life changing for me. I had never used the internet before. Now I can look up all the football results, get the news, use it to take pictures of family, find recipes and I can use it as a magnifier to help me see what's on prescriptions or use by dates on food. I'm also using social media to keep in touch with my family and friends. It helps me feel much more connected, without a doubt." 
Digital technology can open up many avenues to help people who are blind or partially sighted to stay connected and as independent as possible.
We support veterans of the Armed Forces with sight loss to develop digital skills and enjoy adaptive technology if they wish to give it a go. Many go on to find digital technology becomes a vital part of everyday life. 
Our tailored digital training empowers our veterans to use technology with confidence. Whether you'd like some help to adapt to new technologies, access to suitable equipment, or you're embracing the digital world for the first time, our support is personalised for you.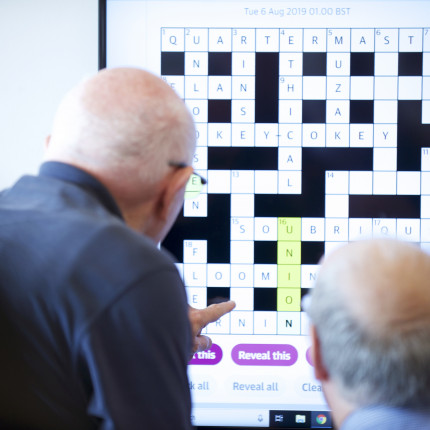 We can provide veterans that we support with smartphones or tablets fitted with specialist software developed for people with sight loss. Many who have received a Synapptic phone or tablet tell us they find it simple and intuitive to use. Keeping our veterans connected with friends, family and the wider world online, these devices really can be life changing.
At our Linburn Centre in Wilkieston and Hawkhead Centre in Paisley, our IT instructors provide one-to-one training sessions to develop IT skills. We'll help you build up know-how on whatever you wish – from using email or doing secure online shopping to feeling more confident with your technology skills.
If you live a little too far away for a day visit, both centres have a holiday cottage on site available for any Sight Scotland Veterans veteran to book. You'll have access to all centre opportunities during your stay, including one-to-one IT training.
For our veterans keen to make the most of digital technology at home, we offer free one-to-one remote access support for computer, tablet and smartphone queries to guide through technology issues over the phone.
Our outreach workers can also put you in touch with organisations such as TripleTapTech who offer home visits for further IT training.
Our expert rehabilitation officers and IT instructors provide tailored advice on equipment that will suit you best for home use too. This could include adapted keyboards, screen magnification software or screen reader software.
Get support to stay connected
Do you know a veteran with sight loss who could benefit from our training and equipment? Complete our enquiry form and we'll give you a call shortly.
Support for all levels of experience
We believe it's never too late to learn, and we help many older veterans with sight loss who have never experienced digital technology before feel confident in using it in their daily life. We provide training to our ex-servicemen and women of all abilities to get to grips with technology – however they'd like it to work for them.
You may also be interested in
Find out about our two activity hubs for veterans with sight loss: the Linburn Centre and the Hawkhead Centre.
Learn more about how Sight Scotland Veterans' expert rehabilitation team could support a veteran with sight loss you know to regain and maintain their independence.
RAF veteran Jim has macular degeneration. Read about how his Synapptic tablet has 'changed his life'.