What is your background?
"I joined the Royal Blind School in 2010 after qualifying as a paediatric nurse from Edinburgh Napier University. 
"In 2016, I took on the Lead Nurse role."
What are your responsibilities?
"I oversee eight staff nurses, as Lead Nurse. I have both nursing care responsibilities and managerial responsibilities.
"I am accountable for maintaining high nursing standards and practices within the school, and I provide evidence of this good practice to inspection bodies.  I take the lead on all health care policies and keep those policies up to date.
"I identify nurses' clinical skills and competencies. Then, I work with nurses to develop those competencies, as required."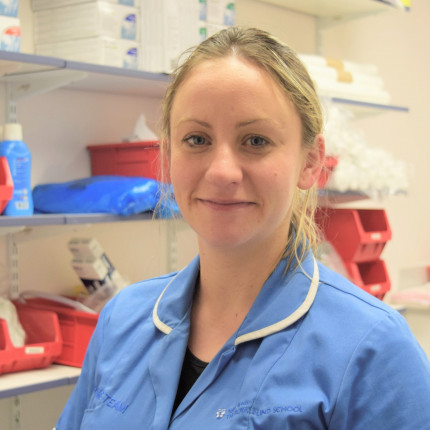 What does an average day involve?
"Like nurses in many other healthcare services, nursing staff at the Royal Blind School work 12.5-hour shifts from 7am to 7.30pm.
"Nursing care involves assessing each young persons' care needs and then working closely with key care workers and families to create bespoke, individual care plans, for each young person.
"Direct nursing care can include providing personal care to a young person, administering medication, seizure management and supporting the provision of gastrostomy feeds."
What do you enjoy about your work?
"I like getting to know the young people and helping them enjoy their lives.
"It's not like working at a hospital, where you might see a patient very briefly and you're trying to get them well and home again as quickly as possible.
"You get the chance to build up a relationship and a rapport with the school pupil. We see that young person grow up and utilise what the school can offer them, as they grow."
What other health professionals do you work with?
"On-site, we have physiotherapists, occupational therapists, a speech and language therapist, and a habilitation team.

"We work closely with them. For example, we would work closely with a physiotherapist and provide nebulizers for a young person while they're participating in physiotherapy sessions.

"We enable the young people to get everything they can out of the Royal Blind School, and ensure their quality of life is maintained. We are here to make that difference."
You may also be interested in
We provide supported residential care for blind and partially sighted children and young people, including those with additional disabilities and health needs, at our Royal Blind School campus in Edinburgh.
The Royal Blind School is Scotland's leading provider of specialist learning to children and young people with visual impairment, including those with additional complex needs.