This National Braille Week (11 - 17 October 2021), we're sharing stories about braille and other accessible formats. Roger Firman from the UK Association for Accessible Formats spoke to braille learners who shared their experiences.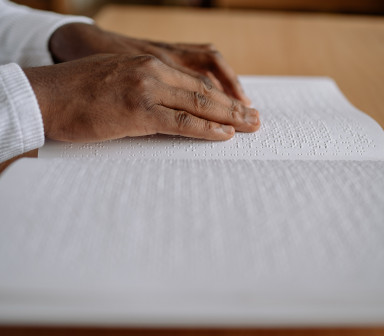 Mary Long is an Advisory Teacher at CENMAC (Centre for Micro Assisted Communication), working in the world of Assistive Technology in education. Mary's particular area of interest is working with students who have vision impairments, and she has been developing her expertise in this field by undertaking a Masters level course - the Mandatory Qualification for Teachers of Children and Young People with Vision Impairments. As part of the course, Mary needs to learn braille to a level where she will be able to teach the young braillists of the future!
As an adult braille learner, what has brought you to this point?
I have been a teacher since 1997, and worked with many students with additional needs. I came to my current role, having qualified as a SENCO (Special Educational Needs Co-ordinator) in 2014, and then have worked in a large mainstream primary school for five years.
In my current role, supporting many students with vision impairments, I feel that my forays into learning braille have developed from my desire and passion to level the playing field and remove barriers to learning for all. I am fascinated by the braille system and the fact that so much meaning can be derived from those six dots arranged in different ways.
What influenced you to learn as a sighted person and also as a touch reader?
I began the UEB (Unified English Braille) online course learning purely through sight, I have always tended to be better at remembering new things if I have visual reminders rather than other types of sensory input, such as auditory. As I went on through the course, I became more and more interested in finding examples of braille in the environment, such as at museums and galleries, and on packaging.
It was then that family members began to try to test me, saying that I was 'cheating' by using my eyes to read braille, and challenging me to close my eyes and read it by touch instead. I found this incredibly difficult at first and couldn't distinguish one letter from the next. I then saw an email within the Vision Impairment Forum, offering a copy of "The Magic Faraway Tree" by Enid Blyton in braille, which was a childhood favourite of mine and which I am very familiar with. I requested the book and have been (very) slowly and steadily reading through it by touch rather than sight in an attempt to gain more understanding of the skills and movement needed to read by touch.
What has been your experience so far?
I find learning braille by sight much easier than by touch as I have found that my fingertips are not nearly sensitive enough to feel the different combinations of dots. Feeling for spaces between words and for special characters is also a challenge. As a result, my braille reading by touch is incredibly slow. I think this skill is something that really needs to be developed through specific pre-braille tactile learning tasks which I haven't needed to develop.
What would you say the relevance of braille is today when some people question its need?
I would say that it is hugely relevant to those who are unable to access printed materials, as it opens up a wealth of information and knowledge. Imagine a sighted person being presented with rows of blank cardboard boxes on the shelves in a pharmacy, this is how someone with no access to print would experience those shelves. Having braille skills means that for those with not enough usable vision to read print, there is an alternative route to being literate.
With your new braille skills, what would you like to achieve?
I would like to be able to confidently inspire and encourage the children and young people that I work with that there is a place for braille, and that braille can open up a realm of learning opportunities. I would like to support young children who still have some sight to learn braille, as in the event of them losing their sight, it may be a skill that they come to rely on.
What was your journey into braille?
In 2011 I was diagnosed with Diabetic Macular Odema which led to sight loss. In 2012 I started to attend a communications class in my local area for those with sight loss. At first I had some lessons on computer skills but then one week my teacher could not attend so I was offered some braille lessons.
I started to learn braille and I so enjoyed it, to be honest it was easier than I thought it would be. For example, grade 1 has a particular pattern which once learnt makes it quite easy. When I went into grade 2 which was more challenging, I made some flash cards to help me remember the short forms and word signs and dot 5's etc which made things a lot easier to learn.
What have you particularly liked about learning braille?
For me it's about a sense of achievement. I am middle aged now and never expected to learn braille as I was fully sighted until 10 years ago. I have loved learning a new skill which has helped me in other aspects such as improving my memory and problem solving. I have made many friends too along the way, either meeting face-to-face or virtually.
How does braille help you with the practicalities of daily living?
I live near a shop that has braille on many products and it has been great to use my grade 1 braille to read what is on the packaging. I don't need an app on my 'phone to read out the product information. The same goes for the multitude of medicines I have to take as the boxes also have grade 1 braille on them.
When out and about I sometimes use lifts, especially at stations, these generally have braille on them and if I am unsure what button to press then the braille is there to help me.
Would you like to say something about helping other adults to learn braille?
Once I had learnt a fair bit of braille and was quite proficient in grade 2, I began to teach others in the communication class. This was a sense of achievement I felt proud of, my life up to this point had been a struggle with losing my job and driving licence and I was unsure where I fitted in.
When lockdown happened in March 2020, the communication classes closed and are still not running. In September 2020, along with the Braillists Foundation, we started a braille book club. I now lead the intermediate reading room and help others to read and enjoy braille as much as I do.
What would you say to someone who might be unsure whether braille is for them?
For anyone wanting to try braille I would say "Do it" I did not know myself how much I would get out of it or enjoy it until I tried it. It really gets your mind thinking and I know it has helped my memory. I am sure The Braillists Foundation would be able to point you in the right direction and the Fingerprint books I learnt braille from are fairly cheap and can be posted out to you. I have made so many friends in the braille community, I know my life is richer for it.
Jane Sellers started learning braille as a teenager, when she was diagnosed with Retinitis Pigmentosa.
What were your first experiences of braille?
I learnt braille at age 15 as I wasn't diagnosed with Retinitis Pigmentosa until age 14. At John Aird School for the visually impaired in West London, I just learnt the alphabet.
How were you taught braille?
The school didn't think I would need braille but when I started at the Royal National College for the Blind in Hereford (RNC) I was taught by Nigel berry who was simply amazing as a teacher of braille and He gave me various techniques. As my hands got hot he suggested Talc, and on the desk there was a pot which said "feel free" which was full of Talc. I used this often and it helped me with my learning of braille. It was a long road for me and I didn't know the whole Standard English Braille code (SEB) until two years later.
How has technology helped?
In 2002, I went back to RNC which for me was, perhaps, a mistake but had just been made redundant from my job with Barclays and didn't know what to do. I took a work preparation course where I learnt about braille technology using the old BrailleNote.
I learnt about embossing braille from the computer and obtained a qualification called Open College Network in braille. A couple of years ago, I had to learn Unified English Braille through the UK Association for Accessible Formats (UKAAF), of which I am a member having set up my own braille business in 2012.
I use braille everyday and now I have an index v4 embosser. I have just acquired a Focus 14 which I am trying to learn with UKAAF and of course The Braillist's Foundation who have helped me so much throughout lockdown.