Please note that as of October 2020, we now operate as Sight Scotland. Our former name, Royal Blind will appear in content, such as reports, produced before that date.
The Minister for Mental Health, Clare Haughey MSP, visited a pioneering project on Tuesday researching care provided for people with dementia and sight loss.
Royal Blind has been awarded £20,000 for the project by the Life Changes Trust with funding from the National Lottery Community Fund over two years. The project is being taken forward by staff at Royal Blind's specialist care home for older people with sight loss, Jenny's Well in Paisley. Around 12,500 people in Scotland have dementia and sight loss, and the initiative aims to raise awareness of how care can meet the needs of people living with both conditions.
Image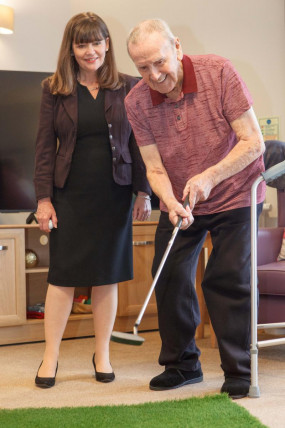 Joined by local MSP, George Adam, the Minister met residents and viewed some activities for people with sight loss and dementia. These included a tasting session where residents took part in reminiscence through sampling traditional local foods. The Minister also observed a resident's putting skills and was impressed by some singing and dancing at Blether's Corner. 
The Minister said:
"Many people living into old age who develop a visual impairment will also have dementia, and we know that there has been an increase in the number of care home residents with dementia.
"Royal Blind's Jenny's Well Care Home is now one of two specialist nursing care homes for older people with vision impairment in Scotland and this project is an excellent example of supporting people to lead fulfilling lives.
"The Scottish Government's See Hear strategy sets out recommendations and areas for action to better meet the needs of people with a sensory impairment. This year we are also increasing our package of investment in social care and integration to exceed £700 million, underlining our commitment to support older people and disabled people."