Please note that as of October 2020, we now operate as Sight Scotland. Our former name, Royal Blind will appear in content, such as reports, produced before that date.
Residents at Jenny's Well, Royal Blind's care home in Paisley, can now enjoy popping to the pub for a drink with their friends, in a special pub created inside the care home.
Image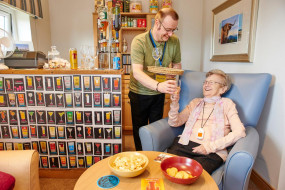 The pub named Jenny's Bar gives the residents the chance to experience a pub atmosphere in a safe environment with staff and family support.
Care Home Manager, Stewart Whyte, said: "We wanted somewhere for residents to socialise at the end of the day, this is their home. Having the bar gives them a place where they can relax with their family or friends. It's great for the residents to be able to go to the bar for a drink and a chat and they can also visit with staff and their families.
"A number of our residents have dementia as well as sight loss. Socialising and listening to music in a pub environment can be very helpful for older people with dementia."
And the bar is certainly going down well with residents. 84 year old Hannah McGregor said: "I like to have a wee tipple sometimes and it's nice to be able to sit in the bar with my friends and to have a bit of a chat."
Meaningful Activities Assistant Carole Little said: "It's gone down really well with the residents, they are enjoying it. It brings back memories for people, which is an important way of those who may have dementia as well as sight loss to relax."
Stewart said: "The bar is taking shape but we need more things in it to really recreate the feeling of a proper pub.  We are very keen to hear from local businesses or individuals who may be able to donate items to Jenny's Bar.
"We would love to have a jukebox so residents could play music from the 50's and 60's. We also need a fridge to keep donated beer or wine in, it would be amazing to have a beer pump to place on the bar, and some bar stools. 
"It would be fantastic if we were able to make Jenny's Bar look like the pubs that our residents would remember from their younger days."
Some of the residents love to sing so Stewart is also thinking about whether a karaoke machine could be a good addition to the bar!
The pub is not licensed but family and friends of residents can donate the drinks.
Jenny's Well is run by the charity Royal Blind and provides specialist nursing care for older people with sight loss.
If you would like to donate an item to Jenny's Bar please contact Stewart Whyte on 0141 370 7950, or email: Stewart.whyte@royalblind.org