Care home residents at Braeside House in Edinburgh have been working on paintings to gift their families for Christmas.
Meaningful Activity Assistant Tony Daley said residents were loving the experience.
"Our residents are getting great satisfaction from creating something tangible. We're using acrylic paint and painting flowers and landscapes," he said.
"Residents have been getting great feedback from other staff, residents and their families about what they've produced.
"Whenever someone comes into the room and comments on it, it gets a bit of chat going and it really lifts residents' esteem."
Staff are wearing the recommended PPE and following Scottish Government advice to minimise the risk of Coronavirus transmission at both Braeside House in Edinburgh and Jenny's Well in Paisley.
Tony said safe social distancing guidelines are being followed, with a maximum of two residents taking part in each painting session at Braeside House.
"We have some people who are totally blind, but they enjoy painting and having other people explain it to them. They like the learning part of it, and it's something to pass on to their family," Tony said.
Sight Scotland is very grateful to every family and every business that donated art supplies earlier this year.
Tony said: "We've had easels, canvasses, watercolours, oil paints, brushes, pencils, and pens donated as well as donations from individuals. Tesco kindly donated £500 for supplies too. We've had a massive response and we're very grateful to everyone who has helped."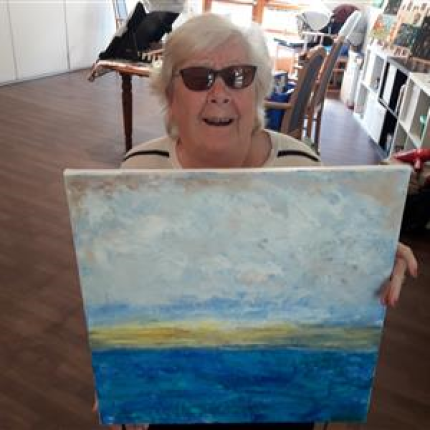 You may also be interested in
Our specialist nursing homes are ideal for older people with sight loss who are finding it hard to cope at home without assistance.
Fraser is blind. He isn't able to read the same storybooks as his friends. Click here to watch Fraser's story.