Vicky's role at Sight Scotland is all about helping the young adults who use our residential services to thrive. She leads a team who support young people with sight loss living in our specialist residential homes in Morningside. 
Take a peek at what Vicky's job is like: 
This video is subtitled. You can also see a transcript for this video below.
Vicky said: "The young people and children, you see how happy they are whether it's through their smiles or their vocalisations, or their mood. You're helping promote their health and wellbeing, and trying to make sure they're part of and feel included in society and the community all around us. 
"It's really rewarding to be able to play a part in that." 
Vicky joined us over 17 years ago as a classroom assistant at the Royal Blind School. She moved on to cover maternity posts as a nursery nurse, then started working in our children's residential services. When we opened Forward Vision, our residential service for young adults, she moved there.  
After studying part-time for a BA in Childhood Practice, Vicky applied for a Senior post and was promoted. 
"For anyone curious about a job like this, I would say definitely come have a look."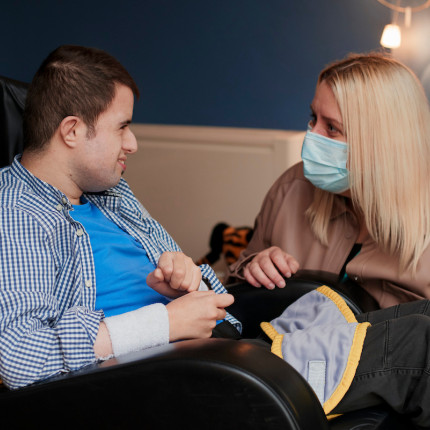 "It's absolutely fantastic, no two days are the same, it's so rewarding – I've been here for such a long time and I'd probably never consider going anywhere else." 
You may also be interested in
We're always looking for brilliant people to help us tackle sight loss. Are you ready to join the team?
We provide supported residential care for blind and partially sighted children and young people, including those with additional disabilities and health needs, at our Royal Blind School campus in Edinburgh.
Young adults with visual impairment and additional complex needs are cared for at our two Edinburgh homes.
Video transcript:
"I've worked here for just over 17 years. 
"The young people and children just make it for me. 
"It's just a great place to work. 
"What makes it different here is, I think it's all the state-of-the-art equipment that we have, and the knowledge that we have as well, working alongside physios and things from the school, and things like Dance Base and Orcadia, groups to go to, hydrotherapy swimming, OTs and physios coming in from outwith for the young adults services that we liaise and deal with on a daily basis. 
"I just really enjoy what I do.  
"Staffing ratios here are really, really good.  
"I've been to a lot of other places, young adult wise, and it's sometimes 12 or 15 residents to two staff members. In here it can be anything from three to four staff members with four or five young people – and it's amazing. 
"The salary is absolutely fantastic compared to other young adult services, I don't think I've found a salary that matches Sight Scotland's. 
"The young people and children, you see how happy they are – it's just really, really rewarding. I've been here for such a long time, and I'd probably never consider going anywhere else."