John served nine years with the Royal Engineers, followed by a spell as a tanker driver and then 12 years in sales and marketing management for a recruitment company before he decided to change direction and pursue a career in social care.
He built up seven years' experience working within residential child care before joining Sight Scotland Veterans as a Centre Officer at the charity's Hawkhead Centre – an activity hub in Paisley for veterans with sight loss.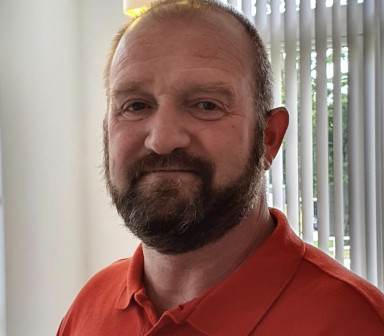 What appealed to you about the centre officer role?
"I live close by to the Hawkhead Centre and had seen the centre developing. At the time I had no experience in working with people with sight loss. But I had my SVQ3 qualification and a HNC in Social Care. I had plenty of transferable skills and with my social care experience – plus being a veteran myself – I felt the role would be a perfect fit.
"When I looked up the charity and learned about its history it really resonated with me, so I applied. I explained I hadn't yet done any formal training relating to visual impairment, but I was told there would be comprehensive training for supporting people with a visual impairment and I'd have a very supportive team.
"I started as a centre officer in June 2019 and can honestly say it was the best decision I've ever made. I love it! I think the ethos and values of the organisation are fantastic."
 
What are your main responsibilities as a centre officer?
"I lead and support activities for veterans with sight loss attending the Hawkhead Centre. This includes anything from strength and balance classes and gym work, woodwork and music or arts and crafts, to sports and cookery sessions, and even local trips and excursions. I conduct regular one-to-one reviews with centre attendees to ensure they are supported in the best way possible and get the most out of the centre.
"I research and identify activities that the veterans would like to do. We encourage and empower our members to suggest things they're interested to do and achieve. In conjunction with the management team, I'll try to arrange those activities and make them happen, as long as they're safe.
"I also keep members' families updated, keep individual care plans updated, and provide personal support where needed. We signpost to other organisations on behalf of individuals as well, where needed.   
"I particularly enjoy facilitating the music and quiz sessions because it's quite a relaxing thing that everyone can take part in. We'll get stories and jokes going, it's a really good atmosphere. I also thoroughly enjoy leading in the skills kitchen."
 
Can you describe what you might do on a working day?
"Starting at 8.30am, I spend the first hour doing admin. That might be typing up six-weekly or annual reviews or notes from the previous day. We'll also have a team catch up. At 9.30am we greet the members and chat with them to see how they are.
"From 10.30am we'll start morning activities. During activities we're always talking with the members, looking out to see if there's anything more we can do for them.
"Lunchtime is a huge thing at Hawkhead – we'll serve members their dinners and chat with them, providing extra help for anyone who may need it. Everyone's dignity is paramount.
"In the afternoon we'll have another activity. At 2pm we'll chat with members while they have teas and coffees and make sure everyone has had a good day. If a member has dementia or memory difficulties, we'll also write a note about their day and pass it to the driver for them to give carers/partners when they take them home. After 3pm we'll clean up and then review the day as a team. We'll put in any referrals we've gathered through the day for partner organisations, log our reports and activity lists, and finish at 4.30pm."
What do you enjoy most about your role?
"It's the smiles and the laughter from the members. For me, the most fulfilling part is supporting the members to take a step out of their comfort zone and try something new. In the skills kitchen, for example, it's about people challenging themselves. The members get to take the food they've made home with them, but it's not all about the food, it's about the connections they've made. That's a great feeling.
"I also enjoy organising trips, for example I've arranged curling trips and we've been sailing. Before starting I'd never imagined we would be doing such a huge variety of activities. The opportunities are endless, as long as it's safe."
What have you learned in your role?
"I did standard and advanced visual impairment training with the charity's expert rehabilitation team all within my first three months. The training is extremely practical. I've also gained a lot of knowledge from the Hawkhead team and I've done online SSSC modules.
"Professionally, I like pushing myself to learn more about partner organisations to make sure I'm in the best position to support members, not just with their sight loss but with other issues too.
"I've already completed two mental health courses, dementia awareness training and an Action on Hearing Loss course. I know the support is there from management. There's no barrier put in your way for personal and professional development.
"As a team, everyone at the Hawkhead Centre is pulling in the same direction and understands the outcomes of what we do. Everybody is very supportive – right through from kitchen staff and drivers to management."
Do you have a highlight from your time at the Hawkhead Centre so far?
"I had the opportunity to represent Sight Scotland Veterans when accompanying our members to London to take part in the Cenotaph March Past on Remembrance Sunday, 2019.
"It blew me away. Being a veteran myself, it's something I never thought I would get to do, and to be able to empower these veterans to take part was emotional and humbling."
You may also be interested in
Find out about our two activity hubs for veterans with sight loss: the Linburn Centre and the Hawkhead Centre.
We've been around since 1915, and we're here to offer support across Scotland for veterans of the Armed Forces who need us today.