Denise has worked at the Linburn Centre for almost nine years. "I spent my first six years as a Driver, also doing relief support in between. I knew then that it was a worthwhile job and I wanted to do more – and I eventually got my Activity Worker role.
"I absolutely love my job – this is the longest job I've ever had in my whole working life. We've got a really good team, and the Veterans, you'd be surprised how much fun they are."
In the video, Denise and Annmarie, who works at our Hawkhead centre, explain what their jobs involve - and why they're so rewarding.
You can find a full transcript of the video at the bottom of this page.
Our veterans centres are special places to work.
"It's always a very good atmosphere," says Denise, "especially when we have our Christmas party or Halloween party. Pre-pandemic, we would meet up in the big hall with about 100 members there. A lot of the veterans meet up with each other and they realise that they were in the same platoon or something – that's great for them to reminisce."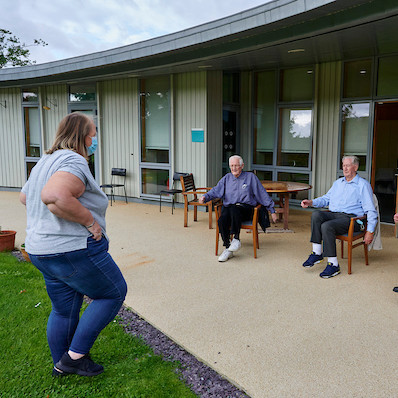 The impact of the job
Denise's role involves supporting activities for our veterans. That can be anything from painting, to bowling, to helping them redevelop cooking skills in our Skills Kitchen. The activities are based on what the veterans themselves are interested in, or want to learn.
And a key part of the job is helping veterans regain confidence as they learn to live well with sight loss.
"There was one veteran in particular who had lost a lot of confidence – he had had a fall, and that can knock everything," Denise explains.
"We found him coming in and being very quiet, not interacting with us or with other people. With a few personal sessions, we managed to help him get over his fear, build up his confidence again for walking and he seems to be back to normal – well as near to normal as he can be and very happy with the work that we do.
"That's one of the most rewarding parts – when the veteran comes back and says thank you. Seeing the veterans leaving with a smile on their face – then I know that I've done some good for the day."
Ready for a rewarding career?
If you're interested in a job like this, check out our latest vacancies.
Video transcript: 
Denise: A lot of people, in the beginning of their sight loss journey, they lose a lot of their confidence. 
And our job is to bring that confidence back, reassure the veteran that you know, there is other people in the same position as them, and we can help. 
Annmarie: Well there isn't a typical day, because every day is different, and the members are different every day, so there's a different dynamic in the centre every day as well. 
Denise: I think my favourite part of the job is greeting the veterans in the morning. You've got to make them feel welcome, feel at home. We have lots of different facilities, obviously we promote independent living, so we do have the Skills Kitchen and they'll learn to cook things. Exercises as well in the morning, nothing too strenuous, just stretches, simple things that they could manage to do at home. 
A lot of the veterans go into the workshop, make all different sorts of things, bird houses, wishing wells, rocking horses. 
Annmarie: And it's reskilling people at times, things that they've lost, because quite often families are very protective, and will think 'Oh no, don't go into the kitchen, you can't use knives, you know because you're partially sighted'.  
I've got people who've gone into art and haven't drawn or painted for years and years and years, and then they suddenly find that with a bit of support, and lighting, that they can paint again. 
Denise: I've just finished making pom-pom blankets with one of the veterans. When she came in last week she was in quite a low mood, and getting her involved in it, showing her what to do, she was absolutely ecstatic by the time we finished. 
Annmarie: And you see changes in people, that come in at first and they're not quite sure what they'll be able to do, what they won't be able to do, you see their confidence growing and then they're so proud of themselves when they achieve, even just going home with dinner for their wife, because they've made it in the Skills Kitchen their self.  
Denise: This is the longest job I've ever had in my whole working life, I absolutely love it here. Seeing the veterans leaving here with a smile on their face, then I know I've done some good for the day. 
Video music credit: Bensound.com