This article was first published when Sight Scotland Veterans was known as Scottish War Blinded.
Palms resting open on laps with eyes gently closed, a small group of people with sight loss have gathered for their next mindfulness session.
After a quick catch up with their friends, it didn't take long for these chatty characters, who are all veterans vision impairments, to settle into a sense of calm.
There's a tangible peace in the air of the Garden Room of the Hawkhead Centre – Scottish War Blinded's activity hub for blind and partially sighted veterans.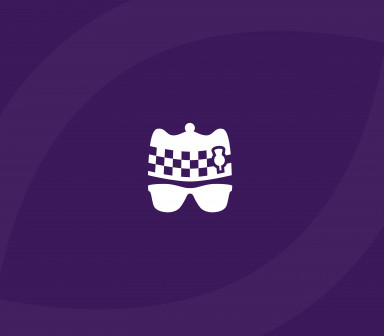 Sandra Docherty, Lecturer in Mindfulness and Complementary Therapies at West College Scotland, softly talks the Scottish War Blinded members through a 'rainbow breathing' exercise.
She asks each member of the group to visualise the colours of the rainbow flowing through their body in turn, bringing them a sense of warmth and ease within.
It's an exercise the veterans have quickly become familiar with over the course of their first few sessions with Sandra.
The lecturer has been attending the Hawkhead Centre every second Wednesday since November last year to introduce the veterans to the benefits of mindfulness – all made possible thanks to funding from the Armed Forces Covenant Fund Trust.
Initially unsure as to how the veterans would feel about the concept, both Sandra and Hawkhead Centre staff have been extremely happy with how they have responded to the breathing exercises and visualisations.
And feedback from the Scottish War Blinded members taking part has already included a heightened sense of calm following a session, practising and using their new-found skills at home – both alone and with family members – and easing of neck pain.            
Benefits of mindfulness for blind and partially sighted people
Sandra, who has been teaching at West College Scotland for over 20 years, believes mindfulness can have a lot to offer people with vision impairments.
She explained: "Mindfulness allows people who are sight impaired to use imagination in a much freer sense and with no constraints. Being still, focused and relaxing the mind and body is very important, as mindfulness has been proven to reduce high blood pressure, anxiety and insomnia.
"I've been delighted with how the members have embraced mindfulness. The veterans are very eager to participate and share life experiences. They've gone away and practised the exercises, and some of the veterans have told me that they've been working on their exercises with their families.
The lecturer has also introduced some simple acupressure exercises to the veterans with the aim of arming them with some techniques for migraine and headache relief.
Hawkhead Centre Officer, Jac Clougherty, has been supporting the members taking part in the mindfulness activity at Hawkhead, and says some of the veterans have also been reporting the positive impact of the mindfulness sessions to her. 
"One of our members told me he suffers from migraines, and he felt that the exercises helped – he's been doing them at home, and another of the members has said it's helping him health wise," Jac said.
"It's taken a wee while for the veterans to get into the mindset. At the beginning they were a wee bit restless, but from January you can see that they are now getting into the mind set a lot quicker.
"I've been printing out the steps and steps for the veterans to follow, and Sandra has a lovely manner. Mindfulness seems to be a hit at Hawkhead."
And Scottish War Blinded Rehabilitation Officer, Katrina Campbell, who is based at the Hawkhead Centre, added: "Instead of focusing on your difficulties, mindfulness lets you focus on the good things. When you're living with a vision impairment, especially when you're on your own, it can be very easy to focus on negativity, but with practices such as mindfulness and with the support we provide to our members, we have seen people quickly start to come out of their shells."
Complementary Therapies for people with sight loss
Alongside mindfulness sessions, some of the Scottish War Blinded members at Hawkhead have also been benefitting from massage therapy sessions through the partnership with West College Scotland.
Sandra explained: "Ewa Surma, who is one of the students from West College Scotland, has also been attending the Hawkhead Centre every Monday conducting one-on-one sessions with the veterans in Thai foot massage and back massage, using Himalayan eggs. The sessions are also helping her to gain her HNC Complementary Therapies Clinical Practice."
Armed Forces Covenant Fund Trust
The College has been able to partake in this partnership with Scottish War Blinded due to funding from the Armed Forces Covenant Fund Trust.
West College Scotland received £19,232 from the Armed Forces Covenant Fund Trust to establish a new project that will support local veterans, and build positive connections between student and veteran communities.
HNC Complementary Therapies students and staff are working with local armed forces organisations to put the skills they are developing to good use, and improve the wellbeing of veterans suffering from a range of age and service-related conditions.
Students are providing support at Scottish War Blinded's Hawkhead Centre, and Erskine. At least 40 veterans are expected to benefit over the course of the year.
The therapies on offer include mindfulness, visualisation therapy, massage, and aromatherapy.
The College's Complementary Therapies students are ideally placed to offer treatments that can alleviate stress, anxiety, musculoskeletal pain, and other physical and mental wellbeing issues that many veterans face.'
Get in touch
To find out more about the support the Hawkhead Centre can offer veterans with sight loss, no matter how or when they lost their sight, and to refer a veteran to Scottish War Blinded, please call 0800 035 6409 to refer a veteran to the charity.