Our latest iSight magazine:
Welcome to our first edition of iSight as Sight Scotland!
In this edition, we introduce our charity's new name and explain how this new name puts us in a better position meet the changing needs of people with a visual impairment in Scotland who need our support.
We introduce our new education support service in Midlothian for children and young people with visual impairment attending mainstream schools.
You'll also read about the protective measures we've put in place at our care and education services, as the worldwide Coronavirus pandemic continues.
Finally, you'll see our new fundraising challenge: Sight for Sight. You are invited to take on a fundraising activity for Sight Scotland inspired by your favourite Scottish sight. It's really easy to get involved and the possibilities are endless, from cycling round Loch Ness to climbing Arthur's Seat.
You can download the iSight magazine, email it to a friend, or share it on social media.
Happy reading!
Subscribe to the iSight magazine
You'll receive all the best stories from Sight Scotland in the seasonal iSight magazine. We publish four issues each year.
Click below to visit the Contact Us page, then tick the box at the bottom to enter your address details.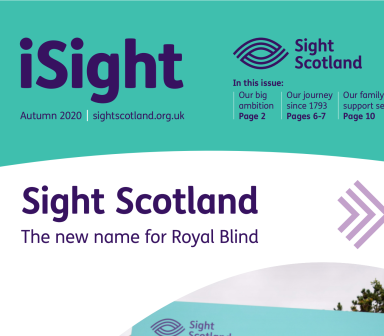 You'll find our best stories and news in the iSight magazine. Download it and email it or share it here.
Sign up to our E-Newsletter