The Scottish Parliament elections in May provided an important opportunity for Sight Scotland and Sight Scotland Veterans to make the case for more action to be taken by our politicians to support blind and partially sighted people.  For the first time we produced our own manifesto for the elections, setting out the priorities for action which the visually impaired people we work with had raised with us over the past three years since we established the policy and campaigns role in the charity.
During the election campaign we worked to get these messages across to politicians with our 'Time to Focus' manifesto which highlighted why visual impairment needs to be a priority in the next parliament. With someone in Scotland starting to lose their sight every hour, and the number of people living with sight loss in Scotland set to increase to over 200,000 people by 2030, we set out the urgent need for action by MSPs.
Our manifesto set out a number of policy initiatives. Our key call for action was for sight loss to be made a public health priority by establishing a new national low vision service and investing in research. We were delighted that during the campaign this policy was supported by a number of parties, including the Scottish National Party who will now go on to form the next Scottish Parliament, and look forward to the new low vision service being introduced in the next parliament.
We believe a new, community based national low vision service will make a real difference to the lives of people living with sight loss across the country. A 2017 Scottish Government review showed that low vision services across the country were variable – some area had good provision, but on other areas there was shown to be a scarcity of services, and the kind of aids and equipment for low vision people are provided with across the country also varies. We believe a national low vision service can help ensure everyone can get the help they need to cope with sight loss when they need it, and link them to organisations which can provide support, including local Sight Scotland and Sight Scotland Veterans. A national catalogue of aids and equipment can ensure everyone has access to low vision aids which help them self-manage with sight loss. Our ambition for the national low vision service is that it will also lead to people being asked when they are diagnosed with an eye health condition if they need support for the emotional impact of sight loss, and put in touch with services which can help them with this. 
There are many issues which we will be campaigning on in the next parliament to create a more inclusive Scotland for blind and partially sighted people, and much work to do. The consensus around the need for a low vision service is one we can build on in the next parliament so that everybody in Scotland living with sight loss receives the support they need.
Visit our Influencing Change page to find out more about how Sight Scotland and Sight Scotland Veterans are campaigning for positive change for people with sight loss.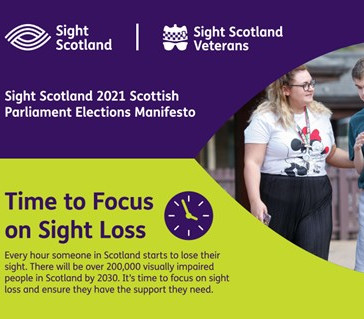 Download and read the full manifesto below