We're working to make Scotland a fairer society for people with sight loss by campaigning to deliver positive change.
We know that for many, sight loss and visual impairment can be a lonely experience. 
We're working to transform this experience for people in Scotland by campaigning to make changes that matter. These changes are possible as we unite with partners and our community. Together, we can see our community thrive. 
We speak out on the issues that matter to our community and strive each day to make an impact so that the voices of those we support are heard. 
We do this by campaigning nationally and at local level, working with the Scottish Parliament and partners on the issues that matter most. We engage in research to listen to the lived experiences of people with sight loss. This work is key to empowering people with sight loss to live fulfilling lives. 
Featured campaign: Our Fair Rail Vision 
Sight Scotland is calling on the Scottish Government to work with local authorities to establish a new national policy for free rail travel across Scotland for those with a National (Scotland) Concessionary Travel for Blind Persons card and their companions. 
Currently, there is no national policy for rail travel across Scotland which entitles free rail travel for blind and partially sighted people and their companions. With different concessionary and companion schemes in different areas, we've heard first-hand how this is causing confusion to both passengers and rail staff.  
As coronavirus restrictions and social distancing measures return, we want to make rail travel better for those living with sight loss. That's why we're calling for a new national rail travel policy for Scotland, like that of the free bus travel scheme.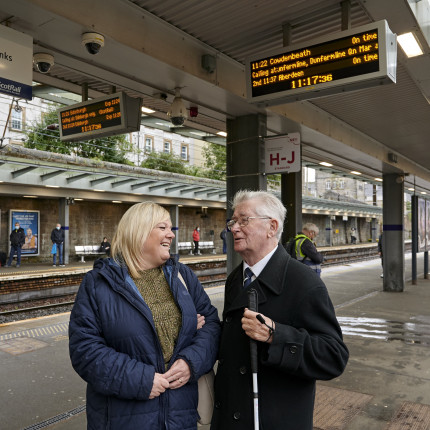 Humans of Scotland book
We are pleased to have worked with Health and Social Care Alliance Scotland to make braille copies of their Humans of Scotland book available. The book shares stories from people in Scotland during Covid-19. If you would like to order a braille copy of Humans of Scotland, please email policy@sightscotland.org.uk.
You may also be interested in