Please note that as of October 2020, we now operate as Sight Scotland. Our former name, Royal Blind will appear in content, such as reports, produced before that date.
The big 100 for Braeside resident Mary Mullen
Braeside resident Mary Mullen celebrated her 100th birthday with a card  from the Queen and a party full of family and friends who came from far and wide to celebrate with her.
Mary was joined by her six grandchildren, ten great grandchildren and many other loved ones. Mary's daughter Myra said that despite her mums age she was on fabulous form for her birthday celebrations.
Mary, who was born in 1919, worked as a nurse for 20 years at Queensberry House Hospital and worked at Bangour Hospital during the Second Wold War tending badly burnt airmen who had been shot down.
She met her husband Andrew when she was 18. Mary remembers that Andrew taught her to dance. Just after they met Andrew was sent off to fight in the war for nearly five years. When he returned Mary was 22 and they got married straight away. In fact, the only time that was available for them to marry was at 9 in the morning!
Mary and Andrew had two children, Ian and Myra. Myra organized the party and a highlight was a young piper from George Watson's school who played for her and the 70 guests.
Two of Mary's wedding guests from 1942 were at the party. Mary's sister Nan Moore a bridesmaid at the wedding 77 years ago and her cousin Betty who was a flower girl both joined the celebrations.
A few years ago Myra and Ian organized for their mum and dad to go on a cruise, Mary has really happy memories of visiting Hong Kong and seeing the Taj Mahal.
When husband Andrew was diagnosed with dementia, Mary nursed him day and night for five years.
Mary has a best friend called Irene who she has known for 50 years, she is very proud that they have never had a cross word between them!
Singing and dancing is high on the list of Mary's favourite things to do. She still likes a sing and a dance at 100. Mary is also a pretty mean bowler and regularly wins the Braeside bowling competition.
Art is an activity that Mary has taken up at Braeside. Meaningful Activities Co-coordinator, Tony Daley has started up art classes for the residents.
Mary says: "I never thought I could paint but since meeting Tony I have done lots of lovely paintings that I show off to friends and family. I am hoping that we will have an exhibition of our work this year."
Mary once had lunch with Barbara Castle at the Houses of Parliament. They bumped into Lord Dalkeith who invited Mary to lunch at the House of Lords, but Mary turned him down as she wanted to get home to her family!
Her career as a nurse was a huge passion. One of Mary's happiest memories is of nursing a very sick man with the strength of a baby to being a healthy and happy man:
"When he was well enough to leave hospital and go home again, we both cried with happiness," Mary says.
And asked what her tips are for a long and happy life. Mary puts it simply:
"Keeping busy and helping others. If you can make lots of friends and help people it makes you happy too."
Mary requested that guests made donations towards Braeside House instead of buying her gifts. Daughter Myra paid tribute to staff at Braeside who she says have given her mum a 'new lease of life' since moving there three and a half years ago.
"It's wonderful because they stimulate the residents so well and keep them happy and active and their activities are wonderful," said Myra.
We couldn't agree more. Happy birthday Mary from all of us at Royal Blind.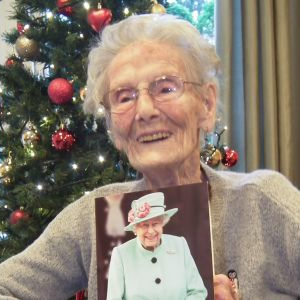 Sign up for our E-newsletter
You'll receive all the best stories from Sight Scotland in our E-newsletter.
Click below to visit the Contact Us page, then tick the box at the bottom to subscribe for email updates.