Having sight loss isn't easy, and it takes its impact on people's emotional wellbeing.
Wilma calls our Support Line about the visual hallucinations she experiences as a result of her sight loss.
The 84-year-old widow regularly has phone calls with our Community Worker, Debbie, through our Support Line, and with volunteer befriender Ruth.
"We have a good blether about anything and everything. We talk about our families, about our week and things we remember," Wilma said.
The silent hallucinations that Wilma experiences are effects of Charles Bonnet Syndrome. The condition affects many people with vision loss, regardless of their age.
Wilma tells Debbie all about the hallucinations.
"Normally, I cannot see anything. I can only sense the brightness of the light coming through the window.
"But sometimes, I'll see tiny people. I'll see the whole person and their heads will be right in front of me. Other times, I'll see buses and trams. They'll be tiny and weird looking, in the distance," Wilma said.
"If you don't know about Charles Bonnet Syndrome, the hallucinations can frighten you.
"I've discovered if I move my head around, the people I'm seeing will move around too, and then vanish."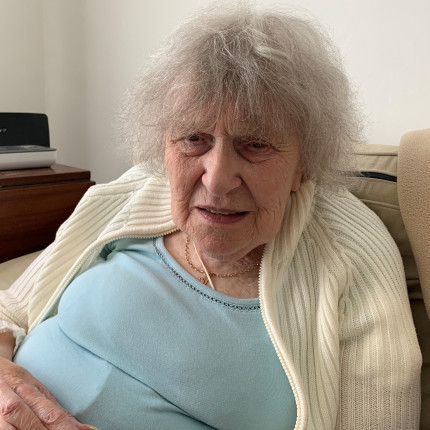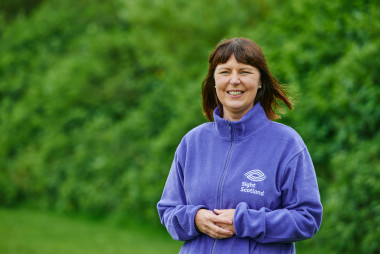 Being able to leave the house
Wilma loves going for walks, but she needs assistance to leave her home.
Wilma said: "Debbie came and took me out one day for a walk at the local park. I've got a walking frame, but all she did was kept a hand on it and guide me," Wilma said.
"If Debbie is coming out, she phones the day before and says so. When she comes out, we catch up on everything."
Poetry
Wilma loves to think up little poems and share them with Debbie.  She recently did a poem on Charles Bonnet Syndrome,
"When I've got nothing to do – if the radio is rubbish or I'm not sleeping at night – I think of poems.
"I can't write them down, so I've got to remember them," she said.
Scrolls down to read three of Wilma's poems.
Wilma's poem about Charles Bonnet Syndrome:
The Charles Bonnet Syndrome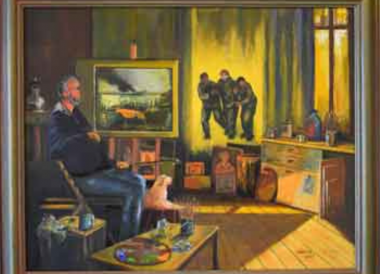 Can give you quite a fright:
You can start seeing things,
When you lose some of your sight.
The brain always wants a picture
And when it doesn't get it from your eyes,
It makes an image up:
Now isn't that a surprise.
If you see pictures you do not like,
Just keep turning your head.
Then the things will vanish,
And you can go to bed.
Wilma's poem about our telephone support:
Debbie and Ruth are lovely pair
Helping the likes of me.
We get quite fed up now,
Because we cannot see.

They phone us up and
We have a good talk;
I also get some exercise
When they take us for a walk.
Wilma's poem about kilograms and pints:

Now that we've left Europe,
Will we get our measurements back?
Because I love my tatties
in fifty-six pound sack.
I like my milk in pint;
The way men like their beer,
And petrol sold by the gallon
Was never quite as dear.
When I tell my grandsons
They've grown another foot,
I don't want them asking Dad
For a third football boot.