Lolly was born a healthy baby and had a very normal childhood until, at the age of two, a virus attacked her heart.
After being admitted to hospital, Lolly then suffered a stroke. During an operation, Lolly's heart stopped, causing major brain damage. For Lolly's family, the shock was indescribable. Their healthy child had lost much of her sight and her speech.
When it came time to find Lolly a school, her parents took the bold decision move from the South West of England to Scotland to allow Lolly to attend the Royal Blind School.
Lolly's mum, Sarah, knew that as specialists in sight loss and complex needs, the Royal Blind School would give Lolly the best opportunity possible.
"We knew the school was the right place for Lolly," she said.
"At the school, they have adapted everything to work for children who are visually impaired and that is at the core of everything."
Despite everything she has been through, Lolly is thriving at the Royal Blind School with the help of its caring and supportive team of specialist staff. She lives in the school's residential houses from Monday to Thursday and returns to her family and siblings at the weekend.
Part of Lolly's routine is to receive regular therapy - including physio, trampoline-based therapy, hydrotherapy, and speech and language support. These activities make a huge difference to Lolly.
Sarah said: "The therapy staff are so passionate about what they do. Lolly really enjoys the interaction with the therapy staff.
"Therapists are a vital part of the school, they aren't just there to do the therapies, they also help with enabling all of the children no matter how complex their needs are to be involved and take part in events like the Christmas show. "
Lolly is now a confident child despite the trauma she has been through in her young life, she has come on so well at the Royal Blind School. The most amazing thing about the School has got to be the caring nature of the staff who work there.
"It's the hard work they have done to build a relationship with Lolly and to gain her trust. They know her, they love her and she respects and loves them in return."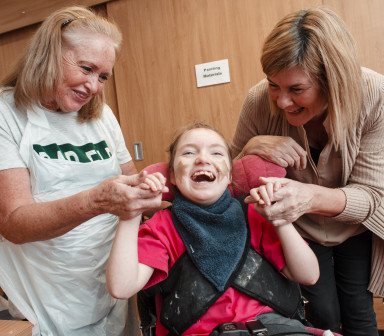 "It's the hard work they have done to build a relationship with Lolly and to gain her trust. They know her, they love her and she respects and loves them in return."