Like many teenagers, Angus is passionate about electronic music and technology.
The 17-year-old lives in Tranent, East Lothian, where he has DJ'd at his high school's disco and school sports day.
Angus says specialist technology can enable people with visual impairment, like him, to do so much—and he is keen to share his knowledge. The gregarious young man has been blind since his birth due to a rare eye condition called Leber congenital amaurosis.
Angus said: "It was devastating for my parents to find out I was blind and they worried how I would cope, but specialist support has made a big difference for me.
"I can do so much with my iPhone and I use social media a lot. I am a member of online groups where I help advise other people with visual impairment on using new technology."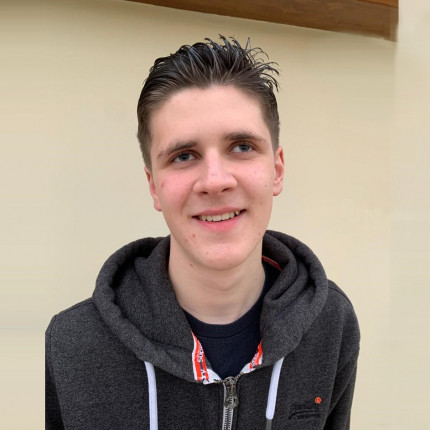 Angus attends Ross High School in Tranent. He said he loves the social aspect of school and was happy to return in August.
Angus said: "I found the lockdown very difficult, I was missing friends and school. I was worried about how social distancing would work being back at school but it was great seeing my friends again and I feel much better."
At Ross High School, Angus is supported by Sight Scotland specialist visual impairment teachers from the Royal Blind School through a groundbreaking partnership with East Lothian Council.
Through this partnership, Sight Scotland teachers work collaboratively with teaching professionals at Ross High School and other mainstream schools to ensure pupils' developmental needs and educational needs are being met. This can include teaching braille and introducing specialist technology and techniques.
Angus is a strong advocate for the teaching and learning of braille.
"I have been learning braille since nursery and it has helped me a lot in school and in other activities too,"
Angus said. "In school I use BrailleNote Touch; a device which you use like a tablet but with braille. This was provided for me by East Lothian Council and teachers from the Royal Blind School really supported me in learning braille and using BrailleNote.
"I have used braille to learn lines for plays I have performed in, and it helps me prepare my sets as a DJ too, which I've already played at events like our school disco and sports day. I think it is very important people with visual impairment can learn braille."
Angus is doing well at school, achieving an A grade in his National 5 exam for music this summer.
Angus said: "It is important that the services provided by Sight Scotland and other charities are there for people with visual impairment. It would be really difficult if that support wasn't there.
"The specialist support I have received at school has been so important to me and now I'm looking forward to the future after school, doing more as a DJ and hopefully working in computers and technology."