Our vision is clear. We won't give up until we see that every veteran in Scotland experiencing sight loss is offered support.  Our camaraderie is vital to regaining lost confidence.
We are committed to bringing about change at local and national level to enable blind and partially sighted people to be included and lead fulfilling lives. 
Throughout our reviews of our work, you'll see how we've reached out to more veterans and invested to help achieve this vision. We want to share some of our key milestones and achievements with you, and look at the impact these achievements have had on the individuals we support.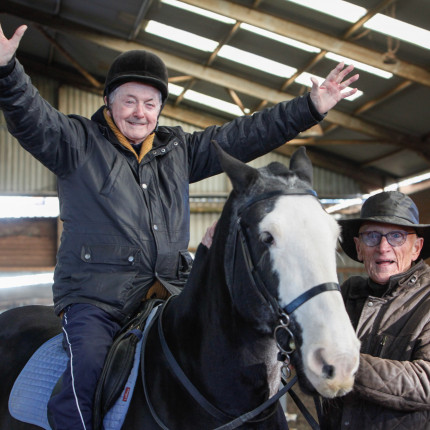 "My local outreach worker supports me to find solutions, and to stay independent in my home. She has helped me immensely by devising a filing system for my paperwork with block colour stickers which allows me to access the papers I need without help. "
"It's like a family to me"
Attending the Hawkhead Centre has been transforming. It's given me confidence and the camaraderie has been life changing. I feel totally accepted as me: not Agnes with dementia, just Agnes.
"It will change your whole perspective."
You may also be interested in
Each year we publish a full annual report, including financial statements. The annual report details our income and expenditure for the year and highlights some of our key achievements.
We're proud to be a founding partner in Action Against AMD, an initiative tackling one of the leading causes of blindness in the world: Age-related macular degeneration (AMD).
Keep up to date with news, press releases and blogs on our latest activities and our veterans' stories.