Established in 1915 to support servicemen who were blinded in World War One, today we help blind and partially sighted veterans no matter how or when they lost their sight – including those who did National Service – to adapt to life with a visual impairment.
Our dedication and resolve to support veterans with sight loss to lead fulfilling, independent lives is as strong as ever.
Here is our story. 
Our History
1915
Our foundation
In March 1915, the organisation now known as Sight Scotland (then called Royal Blind) took steps to help soldiers returning to Scotland who had been blinded in World War One. They founded Scottish War Blinded (now Sight Scotland Veterans). A rehabilitation and training centre for blinded servicemen was to be established.
In late 1915, Scottish War Blinded began to receive blinded servicemen at a small hostel at 37 Grange Loan, Edinburgh.
1915
Rehabilitation and training begins
The servicemen were provided with residential facilities. We worked closely with each veteran to structure personalised rehabilitation and training plans, helping them adapt to life with sight loss personally and emotionally.
Rehabilitation focused on skills for independent living, raising self-esteem and establishing a strong foundation for employability. We provided the veterans we supported with various training opportunities, including basket weaving, mat or net making, shoe repairs, machine knitting, poultry farmer and piano tuning and music.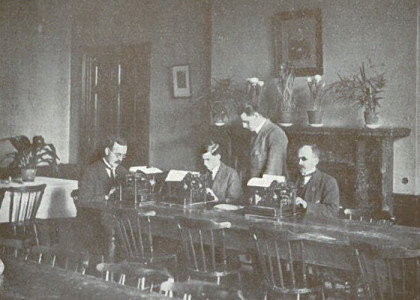 1916
First permanent residence at Newington House
In March 1916, we welcomed servicemen to a permanent premises for accommodation, rehabilitation and skills training: Newington House on Blacket Avenue, Edinburgh. In July, Scottish War Blinded was granted recognition from the War Office for the training of blinded soldiers.
We developed working partnerships with other organisations teaching blind and partially sighted people. The committee formed the Newington House Fund to secure Scottish War Blinded's long-term future, and the Scottish public responded generously with contributions.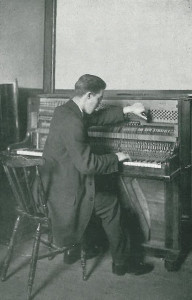 1916
After-care service established
We established an after-care outreach service to support veterans with sight loss to lead independent lives in communities across Scotland following their rehabilitation and vocational skills training with us. With an £150 grant and regular visits from our after-care supervisors, Scottish War Blinded members settled across Scotland, finding meaningful employment in various occupations.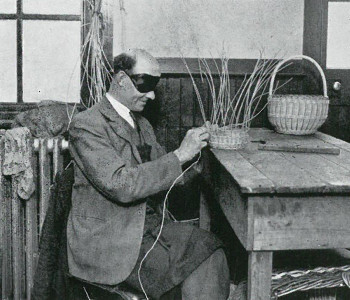 1928
Permanent employment opportunities
We provided permanent employment opportunities for members in our Newington House workshops after they completed their training and rehabilitation.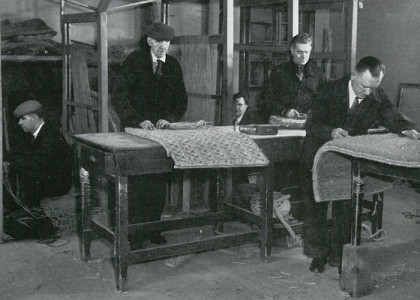 1929
Queen's Crescent premises opens
We opened premises at 2 Queen's Crescent, Glasgow, providing vocational skills training and permanent employment in cane weaving, mat making and boot repairs for blinded servicemen in West Scotland. Queen's Crescent was non-residential, but the initiative allowed many veterans to secure a wage and enjoy the camaraderie of Newington House without needing to travel far. Products were sold at the premises and trade exhibitions.
1943
We acquire Linburn House
With numbers of blinded servicemen returning to Scotland from World War Two growing, we acquired a new premises at Linburn House in Wilkieston, West Lothian.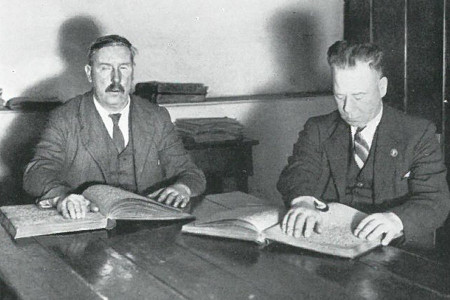 1944
Blinded servicemen arrive at Linburn House
At Linburn, we offered veterans a year-long induction course including braille tuition, touch-typing and basket making, followed by the choice of a range of training and employment opportunities. These included woodwork, cane, metal, wire and leather work in Linburn's workshops, as well as vocations like physiotherapy, typing and shop keeping.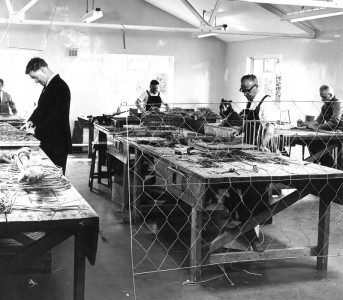 1954
The Linburn Scheme
By May 1954, Linburn House was demolished and replaced by seven permanent modern workshops covering wire, metal, woodwork, lampshades, plastics, cane and leather. There were new modern rehabilitation rooms, offices and a bowling green. We also built houses for the charity's members and their families, and a hostel was established for single veterans with sight loss.
The veterans produced a wide range of consumer products for the public and industry, receiving a weekly allowance. The Linburn Workshops continued until 2009.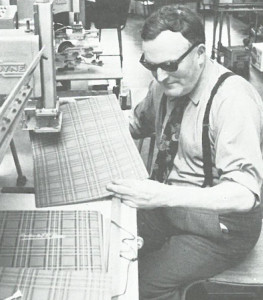 1960
Queen's Crescent development
Development and modernisation at Queen's Crescent provided opportunities for blind and partially sighted veterans in the West of Scotland to learn new trade skills that were pioneered at Linburn, including wire, plastic, leather and woodwork. Production capacity increased greatly, with veterans embracing the new opportunities.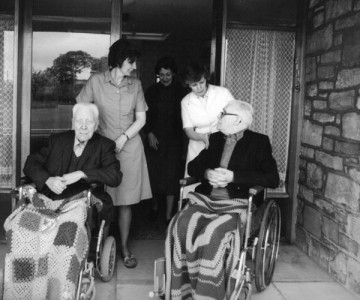 1963
Care at Linburn
We created provisions for elderly/respite care at the Linburn Hostel for our older members, many of whom had retired from Newington House and Queen's Crescent. With many approaching retirement age by the 1980s, industrial operations were moderated. We organised outings to places of interest for our veterans and Queen's Crescent had a 'Wednesday Club' with guest speakers.
1984
After-care department at Queen's Crescent
Based at Queen's Crescent, our after-care department assisted veterans with finding suitable retirement accommodation in West Scotland and at the Linburn Hostel. A drop-in service as also available for advice and information. The workshops at Queen's Crescent closed in 2002.
1988
Our constitution changes
We changed our constitution for grant admissions of blinded servicemen and women from conflicts including Malaya, Korea, Aden and Northern Ireland.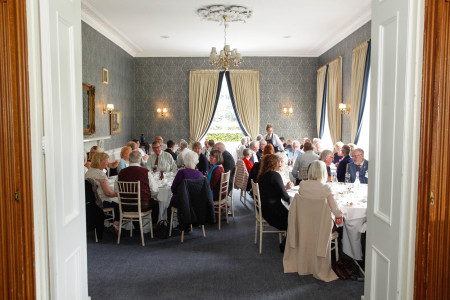 1988
We launch our first reunion lunch events
Our after-care service started a programme of reunion lunch events to bring veterans with sight loss closer together in communities across Scotland.
2007
Our membership expands
We expanded our free membership, enabling us to also support veterans who develop a visual impairment after their service. Now all veterans in Scotland with sight loss affecting their independence, including National Service veterans, can receive our support – no matter when they served or how long for, or how or when they lost their sight.
2010
Outreach pilot launches
The outreach project in Edinburgh, Lothian and Grampian aimed to provide emotional, financial, practical and social support to veterans with sight loss, as well as develop partnerships with local agencies.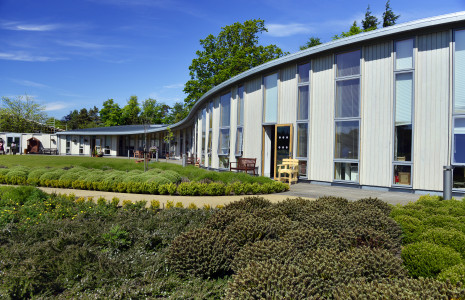 2011
New Linburn Centre opens
In February 2011, we officially opened the modern day Linburn Centre on the grounds of the former Linburn House and Linburn Scheme. Today's Linburn Centre is an activity hub for the blind and partially sighted veterans we support, providing rehabilitation and various activities and social opportunities.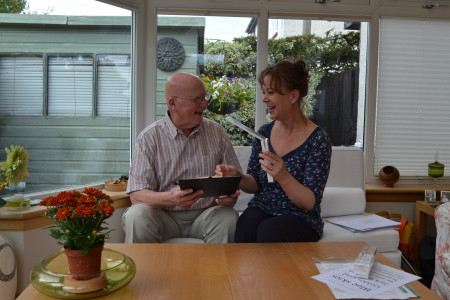 2012
Our outreach service expands
Our outreach service offers free support and assistance to blind and visually impaired servicemen and servicewomen in communities across Scotland. Since launch, our outreach team has grown to now cover all Scotland's local authority areas. Each outreach worker provides one-to-one support, including home visits, and runs various lunch groups, day trips and outings for those in their area.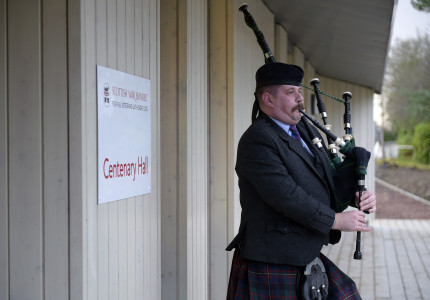 2015
Our centenary year
We marked 100 years of our support for blind and partially sighted veterans in Scotland. We announced plans to build a second activity hub in Paisley to provide activities and social opportunities for our members in West Scotland. We also built a new sports hall at the Linburn Centre, named Centenary Hall, as well as four new accessible bungalows for members. These were officially opened by the Duke of Buccleuch.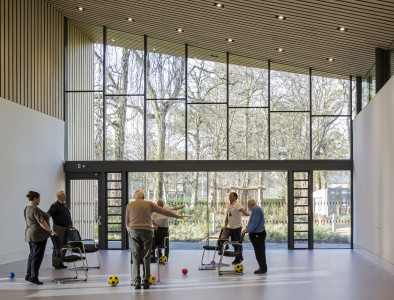 2017
The Hawkhead Centre opens
We opened the doors to our second activity hub, the Hawkhead Centre in Paisley, in October 2017. Like the Linburn Centre, today the Hawkhead Centre is available to veterans with sight loss we support, offering rehabilitation and a number of activities, trips and social opportunities to suit many interests.
2020
A new chapter 
In October 2020 we changed our name to Sight Scotland Veterans.
Our new name represents and embraces a new period of growth, focusing us on the issue which matters most: tackling the impact of vision loss together. 
It has been a big decision to change our name and we know that change can be hard. Our former name served us well over the decades and has a proud history. 
It had become clear, however, that our name was a barrier to achieving our goal of supporting more military veterans. We needed to address this barrier to ensure we are able to reach as many veterans as we can with sight loss across Scotland. As Sight Scotland Veterans we move forward to a new chapter in our story.