Throughout lockdown, David has received regular support from both his Outreach Worker, Gail and his Rehabilitation Worker, Audrey.
David has always loved to read his daily newspaper, however with his deteriorating eyesight, he was struggling to do this. Gail and Audrey visited and suggested various options to support David, who decided to have an app called Dolphin Easy Reader installed on his tablet. 
The app allows readers to access all national newspapers and a number of magazines. Audrey said "Together with Gail, we were able to help David to continue reading his daily newspaper in a format he can enjoy. I have thoroughly enjoyed working with David and Gail and I'm delighted we were able to achieve a positive outcome."  
David told us, "Since I found out about Sight Scotland Veterans, I have been provided with various pieces of equipment, which has allowed me to remain independent.  Gail and Audrey have been very kind to me and I always look forward to their visits".
On another visit, David mentioned to Gail that he was starting to spill water when pouring from his kettle and had burnt himself a few times.  Gail suggested and set up a 'One Cup' kettle. She said, "We want all our members to be safe within the kitchen, and I am now happy in the knowledge that he is no longer at risk and can easily make his cup of tea".
Gail added, "David has adapted to the restrictions really well and during our regular calls, we always manage to have a good laugh.  David is easy to talk to and loves to reminisce; I enjoy hearing all his stories".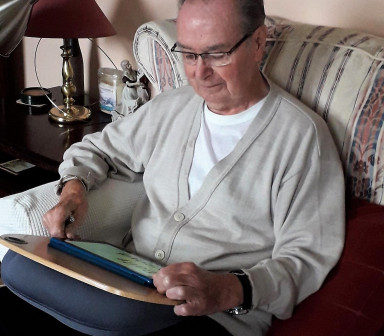 Do you have a connection with an ex-service person with sight loss? If you do or you're a veteran of the services yourself, we'd love to hear from you. Get in contact with us by clicking here.