Three veterans with sight loss share how expert support and training with the Sight Scotland Veterans rehabilitation team has helped them to regain their independence.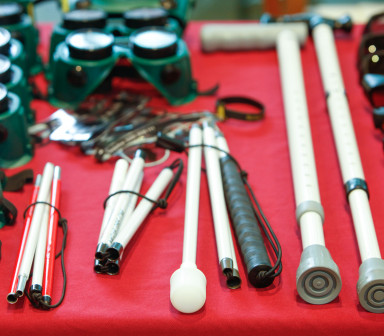 Army veteran John Fraser, 56, of Prestonpans
"Rehabilitation support for my sight loss has been a godsend for me. When your sight goes your confidence does take a big tumble because you feel very vulnerable, especially when you're out and about. If you have sight loss, it's immensely beneficial to get some expert support through services like those of Sight Scotland and Sight Scotland Veterans.
"My sight went in my right eye in 2016. I was told I had an optic nerve stroke. In 2019 my left eye went the same way. Now I can just see shapes, it's hard to define what objects are. It was like having to start from scratch all over again.
"I'd had some long cane training before joining Sight Scotland Veterans as I'd been tripping over things and feeling disorientated. It helped immensely. My rehabilitation officer is fantastic. She's helped me with magnification and kitchen aids to get me back into cooking and make me more independent at home again. She's also helped me with different tips for my long cane and with simple tips and tricks for navigating and crossing the road.
"It's boosted my confidence to try things and get out and do things for myself – simple things people often take for granted. It's had a big impact on my life."
Army veteran Edward Rushworth, 91, of Edinburgh 
"My sight loss started with glaucoma. I'm now effectively blind in my right eye and have lost around 20 percent of my sight in my left eye.
"One of Sight Scotland Veterans' rehabilitation officers assisted me with some cane training before the pandemic set in. She supported me to try different canes with an assessment and gave me some terrific extensive training with the long cane, including advice for things like crossing the road, which made me feel very confident with it. She was so specific and thorough, it was fantastic. I don't use my long cane all the time, but I will take it out with me occasionally in case of trip hazards and I'm happy to be able to use it. It does give me some independence back.
"It is very beneficial to do rehabilitation training and pick up new skills to help you adapt to life with sight loss. I'd encourage people to reach out for this support."
Women's Royal Army Corps veteran Marjorie Paton, 86, of Bonnyrigg
"When I was diagnosed with macular degeneration, I remember I just burst into tears. I felt like that was the end of my world. But with the support of organisations like Sight Scotland Veterans I've learned you can still do things with sight loss. My sight is getting bad now, but I can still get out. It won't defeat me. I've learned new skills and am using helpful equipment like talking scales – what a difference that has made to my baking. All these things you don't know exist until you get some support.
"Recently my rehabilitation officer has helped me with suitable portable lighting and advice to get me back to watercolour painting at home. I was struggling to see the colours. I'm also getting back into sketching again. I've gotten used to using my magnifier in the shops now. These changes can be very simple things, but the impact it has and how it helps me is unbelievable."
To find our more about the specialist support Sight Scotland Veterans' rehabilitation team can offer veterans with sight loss, visit our Independent Living page.