Please note that as of October 2020, we now operate as Sight Scotland. Our former name, Royal Blind will appear in content, such as reports, produced before that date.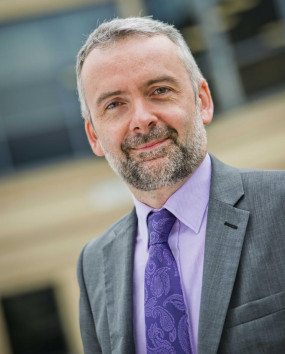 Press release
Royal Blind's leaders are getting into their exercise gear for the 2.6 Challenge.
The 2.6 Challenge encourages people to take on a fun activity and then to donate to or fundraise for their favourite UK charity.
Royal Blind—Scotland largest visual impairment charity-—is raising funds to help support its five residential care services, which remain fully operational during the COVID-19 pandemic.
Chief exec Mark O'Donnell will be rowing 26,000 strokes for the challenge while Stephen Coulter, Director of Corporate Resources, will be running the equivalent of a marathon over 10 days.
Mark O'Donnell said he had set himself an ambitious target.
"From Sunday, I'll be rowing 26,000 strokes on my indoor rowing machine, over 26 days. 
"They say 1,000 strokes is equal to travelling about 2 kilometres in the water, so overall, 26,000 strokes is like rowing from Leith to Kirkcaldy.
"All our staff at Royal Blind, especially our nursing and care teams, have been going that extra mile to care for all the residents across our five services during this pandemic.
"That knowledge will be urging me on during this challenge."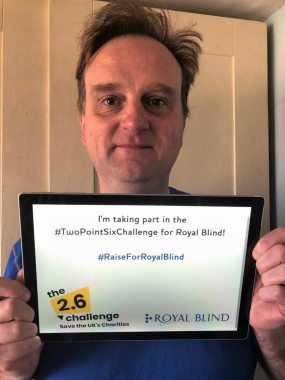 Stephen Coulter will be running 2.6 miles a day over 10 days, which amounts to the length of a 26-mile marathon.
Stephen said he was grateful for every kind of support Royal Blind received.
"It has been a challenging few weeks. However, thanks to those who have donated funds, sent food to our key workers, donated hand sanitisers and made face shields for our key workers, we have been able to ensure our residents in our care homes are receiving the best care possible.
Mark O'Donnell said Royal Blind was facing additional costs due to the coronavirus and the Scottish charity was grateful for donations from the public.
"Our key workers are inspired by the huge outpouring of public goodwill and support that they are receiving.
"We know COVID-19 has put a huge strain on many families. But if you would like to donate to help with our work at this vital time, we would be exceptionally grateful."
Donate to support Mark and Stephen's challenge at http://www.justgiving.com/mark-and-stephen-s-2-6-challenge
ENDS
For more information contact:
Robert Steven
PR & Communications Executive, Royal Blind
0772 8699 080
robert.steven@royalblind.org