Please note that as of October 2020, we now operate as Sight Scotland. Our former name, Royal Blind will appear in content, such as reports, produced before that date.
One of Scotland's oldest charities has marked 225 years supporting blind and partially sighted people.
Royal Blind held a reception for its supporters, staff and service users at the Scottish Parliament yesterday. The event was hosted by Stuart McMillan MSP.
Image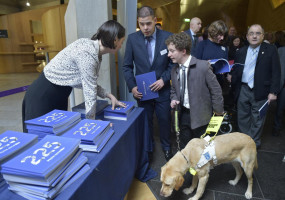 Royal Blind was established in Edinburgh 1793 – the same year in which Rabbie Burns wrote Scots Wha Hae! Today Royal Blind provides care, education and employment for people with sight loss from across the country.
Read our commemorative booklet - Celebrating 225 Years of Royal Blind.
Royal Blind Chief Executive, Mark O'Donnell, said: "Since Royal Blind's foundation 225 years ago as a simple workshop providing employment for vision impaired people in Edinburgh, we have transformed the lives of many people with sight loss across Scotland.
"Over the centuries our work has evolved with society's attitudes towards disability. Today we are Scotland's largest vision impairment organisation and our mission is to see a community in which blind and partially sighted people are fully included, with their rights and aspirations fully supported."
Royal Blind's 225th Year Anniversary event included speeches from Mr O'Donnell, Stuart McMillan MSP and Clare Haughey MSP, Minister for Mental Health.
There was also a performance from Royal Blind School pupil, Connor, and an exhibition of the organisation's history. 
Mr O'Donnell added: "This is a fantastic opportunity to reflect on not only what Royal Blind has achieved in the past two centuries, but to look to the future as we explore new ways of supporting blind and partially sighted people across Scotland."
To mark the milestone year, Royal Blind have also produced a book that examines the evolution of societal perspectives towards sight loss and disability, and how its services evolved over the centuries.
The publication includes interviews with former service users and staff and explores issues affecting people with sight loss including education, employment, tackling social isolation and integration.