The guide available to download below is a guide on activities and care for people living with dementia and sight loss based on learning from a Sight Scotland Rights Made Real project funded by the Life Changes Trust.
The guide has been developed as part of the aim of the project, which took place in Sight Scotland's Jenny's Well Care Home in Paisley, to promote awareness and learning on dementia and sight loss.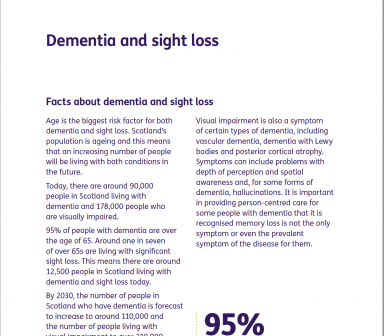 Download Dementia and Sight Loss Guide (PDF)
Sight Scotland Family Support Line
Do you have a loved one living with sight loss? Are you looking for some support? Find free support now with our friendly experts through the Sight Scotland Family Support Line.