Please note that as of October 2020, we now operate as Sight Scotland. Our former name, Royal Blind will appear in content, such as reports, produced before that date.
Anya is flourishing at her local school, following support from Royal Blind's learning support service.
The Royal Blind School has been providing the East Lothian Vision Impairment Service since 2017.
Teachers from the Royal Blind School visit pupils with vision impairment in mainstream schools across East Lothian.  These regular visits mean they are able to offer vital support and skills, such as teaching braille, helping to adapt areas in the classroom and working with both the pupil and their teacher.
Anya, age 9, began to receive support from the service a year ago.
Anya's mum Emma, said: "Anya was born at 23 weeks. She had a brain haemorrhage when she was two days old, she contracted pneumonia two months later, she had to have laser surgery on the blood vessels in her eyes.
"Doctors said she may never walk or talk. I don't know how we got through those months we barely left her side.
"Anya finally left the hospital when she was five months old, she is such a fighter, she did learn to walk and talk. As she got bigger we realised that she was struggling with her vision.
"We saw an eye specialist who referred us to the East Lothian Visual Impairment Service. I couldn't believe how quickly it all happened, it was such a lifeline."
Pam, a teacher from the Royal Blind School, came to see Anya in her school and immediately managed to make a lot of changes. Pam worked with Anya's teacher to change the position she sat in, she moved her further from the window to reduce the glare and she made sure that she had text enlarged. Pam also got Anya using a laptop with a microphone so she can type.
Pam comes every two weeks and takes Anya out of the classroom so they can work together. Anya really looks forward to her sessions with her
Emma said: "Anya is finding it much easier to concentrate and the change in her is just amazing to watch. She didn't have many friends when she started school but her increasing confidence has meant she now feels able to make friends.
"Anya is like a different person, she's such a chatterbox now. The visits from Royal Blind have made her come on in leaps and bounds."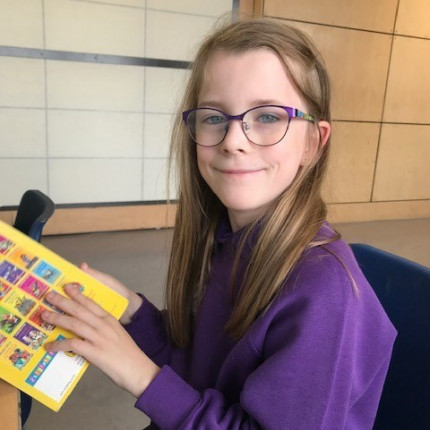 Sign up for our E-newsletter
You'll receive all the best stories from Sight Scotland in our E-newsletter.
Click below to visit the Contact Us page, then tick the box at the bottom to subscribe for email updates.