We provide personalised residential care for adults with visual impairment and additional disabilities.
Our specialist services are places to truly call home, situated in peaceful surburbs of Edinburgh. 
Delivering the highest standards of joined-up care, we offer the safety and comfort of a homely setting, adapted and tailored to support adults with complex needs in all aspects of daily living. We provide the best possible person centred care and support to enable adults to live fulfilling lives and achieve their own ambitions. 
Get in touch 
We are developing new approaches to support and provision of care to adults with visual impairment. To find out more, get in touch.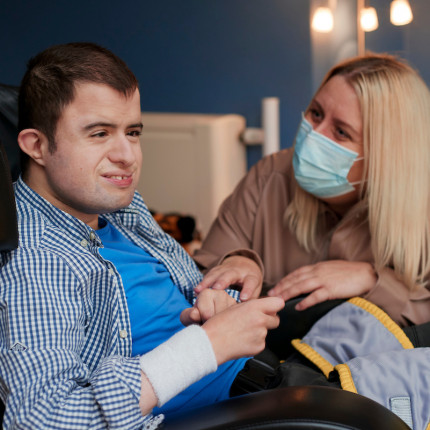 Why choose us?
We listen. Your loved one's individual needs and goals are at the heart of our individualised care. Our dedicated residential care staff have a wealth of experience and expertise in supporting adults with a visual impairment and complex needs. We empower young adults to lead life with the best possible tailored care and support.
Our friendly services are the perfect places for confidence and independence to grow in a supportive, homely setting. You'll get to know new faces. We offer opportunities to learn new life skills and explore fresh interests in addition to those you already enjoy. We link up with other agencies and services too.
There's so much to offer on our doorsteps – we'll support you to get out and about and make the most of the neighbourhood and local life.