Sight Scotland Veterans are proud to present our virtual art gallery, featuring art work by veterans with sight loss who developed their creative streak in the Hawkhead Centre's art room.
This video showcases wonderful paintings and sculpture pieces that went on display in Glasgow's iconic Kelvingrove Art Gallery and Museum in early 2020.
The exhibition marked a huge personal milestone for these veterans - many of whom had not tried out art before their sight loss, and were inspired by volunteer art tutor, Michael McAllister, to take up a creative hobby.
Michael himself has a visual impairment, and works closely with many veterans at the Hawkhead Centre to adapt their skills, help build their confidence, and develop their artistic flair.  
We hope you enjoy exploring this virtual gallery! The video includes full audio description.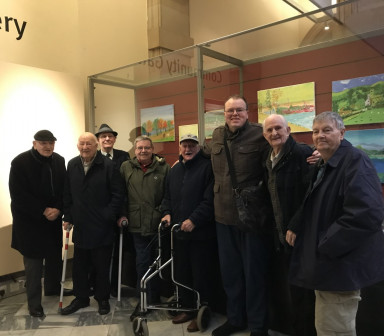 Sight Scotland Veterans Veterans' 2020 Kelvingrove Exhibition
This video was created in February 2020 when Sight Scotland Veterans went by its former name, Scottish War Blinded.
Contact us
Get in touch with us today to see if we can help you or a veteran with sight loss you know.
You may also be interested in
We've been around since 1915, and we're here to offer support across Scotland for veterans of the Armed Forces who need us today.
We're committed to responding to every individual's interests, enabling the joys of life to be regained or newly discovered.