Please note that as of October 2020, we now operate as Sight Scotland Veterans. Our former name, Scottish War Blinded will appear in content, such as reports, produced before that date.
The party mood has been in full swing for Scottish War Blinded's veterans with sight loss as members of the charity's Dumfries and Galloway lunch group celebrated the festive season.
Veterans from the area with vision impairment, who are all supported by Scottish War Blinded, enjoyed a lovely lunch at the Cairndale Hotel and Leisure Club, Dumfries, on Friday, December 14.
With Christmas crackers, a festive music quiz, party hats and plenty of laughs, it was the final monthly meet up of the year for the group, who have developed several close friendships over the past few months.
Image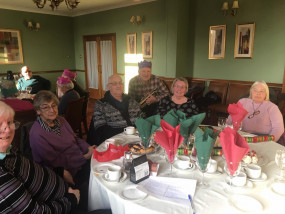 And the Scottish War Blinded members, who meet on a monthly basis at the Cairndale Hotel, are looking forward to the new year and welcoming more veterans with sight loss from the area into their community.
Scottish War Blinded Outreach Worker for Dumfries and Galloway, Mick Seed, started his role in August this year, and is keen to bring more members on board in 2019.
Mick said: "We currently have around a dozen members who regularly attend the lunch group. It's a great opportunity for people to get together and make new friends. Some come on their own, while others come along with partners or carers. For carers, it's possibly one of the only chances in the week that they'll get for respite as well.
"And it's not just members based in Dumfries, we'll get members travelling over from the wider area, too."
Alongside hosting the lunch groups, Mick also carries out home visits to members across the area, providing practical and emotional support.
Mick added: "Scottish War Blinded isn't just about the lunch groups – we can also provide free specialist equipment to members to help them continue to live as independently as possible with their sight condition, for example CCTV readers to help read newspapers and personal mail.
"I'd recommend that anyone who is a veteran with sight loss, or those who have a family member who is a veteran living with vision impairment, get in touch with us. There's lots of free support you can access through the charity."
And the charity's monthly meet ups are particularly important to the veterans at this time of year, helping to bring them out of social isolation – something which many members have struggled with as a result of their sight loss.
The lunch groups are key part of the charity's offering to members, as Scottish War Blinded aims to tackle social isolation for veterans with sight loss.
Research carried out by Scottish War Blinded earlier this year showed that two thirds of Scottish War Blinded members said their sight loss had resulted in them experiencing loneliness, and access to the charity's services played the greatest role in helping them overcome social isolation.
Scottish War Blinded Director, Rebecca Barr, said: "Our research has shown that too many of our members have experienced social isolation as a result of their sight loss, and access to the services we provide is crucial to help our veterans overcome loneliness or prevent them from becoming isolated."
Scottish War Blinded gives free support to former servicemen and women of all ages, no matter if they lost their sight during or after service.
Call 0800 035 6409 to refer a veteran to the charity.