Please note that as of October 2020, we now operate as Sight Scotland Veterans. Our former name, Scottish War Blinded will appear in content, such as reports, produced before that date.
Press release
A Houston veteran has been shortlisted for the 'Volunteer of the Year Award' in this year's Scottish Veterans Awards.
Scottish War Blinded nominated David Carruthers for the prestigious award to recognise his dedication to supporting veterans with sight loss who attend the charity's Hawkhead Centre in Paisley.
David, 66, has been a volunteer driver at the Hawkhead Centre for over two years, giving two days a week to transport veterans with sight loss to and from the activity hub.
Image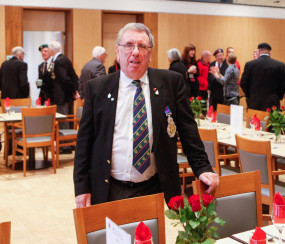 His commitment to the centre goes above and beyond his role, with the kind veteran also giving his time to support the veterans with various activities including wood work and art, as well as day and weekend trips.
The veteran has also accompanied groups of Scottish War Blinded veterans to the Cenotaph March Past in London last Remembrance Sunday, and on military activity weekends at Redford Barracks.
Commenting on the announcement that he has been shortlisted as a finalist for the 'Volunteer of the Year' award in the Scottish Veterans Awards, David, who served with the Argyll and Sutherland Highlanders from 1972 to 1978, said: "It's really overwhelming to be nominated and be shortlisted. It's really great.
Image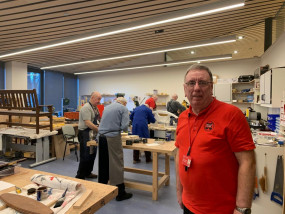 "My brother is supported by Scottish War Blinded so I was well aware of the charity before the Hawkhead Centre was built and had asked if there was any way I could get involved. Once the Hawkhead Centre opened I started volunteering.
"I really enjoy the comradeship at the Hawkhead Centre – everybody gets on with everybody. I enjoy helping other folk and giving something back. It means a lot that it's a veteran's charity too, to give back to that community. As long as I'm fit, I'll keep doing it."
The Hawkhead Centre's manager, Gillian McDonald, says David has also helped grow Scottish War Blinded's connections within the local community with organisations such as the Royal British Legion.
And his one-on-one support for the veterans and friendly chat makes a difference to many who attend the Hawkhead Centre – many of whom live on their own and would struggle to attend the activity hub without the door-to-door transport provided.
Gillian said: "David does all he can to make the veterans' days at the Hawkhead Centre a great experience. The veterans love the conversation they have with him when he drives them to and from the centre and love his sense of humour.
"In the workshop he supports the veterans to make anything from bird houses to benches. It makes a huge difference to them and their confidence. With him being a veteran too, they have that bond. On top of his two days a week, he regularly gives any extra time he can, whether that's at the centre or supporting us at one of our events."
Rebecca Barr, Director of Scottish War Blinded, said: "Our volunteers enrich our veterans' experience of the Scottish War Blinded services even further. We are extremely thankful to David, and to all our volunteers, for the time, effort and kindness they give to Scottish War Blinded services across the country.
"As a volunteer driver, David is helping to bring even more veterans to the centre who would otherwise be unable to attend due to travel difficulties owing to sight loss. David really does go above and beyond to help these veterans. It's fantastic to hear he has been listed as a finalist for this award, and we wish him the best of luck for the prize."
David will learn if he has won the 'Volunteer of the Year' award when the Scottish Veterans Awards announce their winners in April.