Please note that as of October 2020, we now operate as Sight Scotland Veterans. Our former name, Scottish War Blinded will appear in content, such as reports, produced before that date.
Press release
A group of veterans who embraced art as a hobby after sight loss will display some of their creations at Glasgow's Kelvingrove Art Gallery and Museum in an exhibition beginning this month (February).
Many of the 13 veterans, who all have a visual impairment and are supported by Scottish War Blinded, had never engaged with their artistic side before they began attending the charity's Hawkhead Centre in Paisley.
The activity hub has a dedicated art space where veterans can develop their skills and flair in a supportive environment.  
Image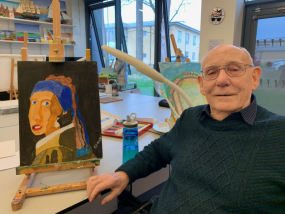 An eclectic selection of some of the Scottish War Blinded veterans' work will be exhibited at the iconic gallery for the first time from February 14.
And the group is delighted to have the chance to show the public that sight loss is no barrier to creativity.
National Service veteran Jackie Kerr, 82, of Johnstone, has the sight condition macular degeneration. His Gothic-inspired clay work will form part of the exhibition.
Image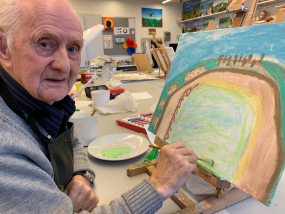 Jackie, who had never tried out art before starting at the centre, said: "I'm registered blind, so working with the clay is good because it's working with your hands. You get used to it and I've worked on quite a lot of things now.
"I must have been looking for an outlet. I just love the end product and thinking, 'I've done that,' when I never thought I could do it. I'm always really proud of it.
Image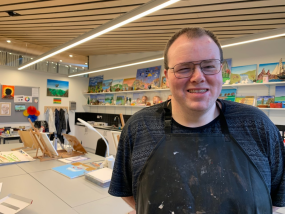 "It will be nice to have our work displayed in Kelvingrove so people can see what we can do. You don't know what you can do until you try."
Johnstone's Gerry McAuley, 79, has glaucoma, which has left him blind in his left eye. The Highland Light Infantry veteran, who also served with the Territorial Army, was hugely frustrated to have to give up his beloved fishing hobby due to his sight loss, but has found new passions, including art, at the Hawkhead Centre.
Gerry, who will present a painting representing the "hell" of trench warfare in the exhibition, said: "Art makes your mind work and challenges you. Before I came to the Hawkhead Centre, I never thought I'd be able to do it.
"I was getting angry sometimes because I can't get out to do my fishing anymore due to my sight, but this has toned me down. "With my sight I find it difficult when it comes down to fine detail, also due to my hand being a bit shaky. But you're the painter, you can do what you want.
"I like that it's very relaxing in the art room, plus the fact that you've got the company. You get to know everyone. My family have enjoyed seeing what I'm doing. This is the first time I've had my work displayed in public, and I'm very pleased."
Art Volunteer, Michael McAllister, has been dedicating time to the Hawkhead Centre's art room for over a year and a half. He supports the veterans to develop their skills and creativity, and has helped to organise this exciting first exhibition.
Michael has a visual impairment himself, resulting from the condition Septo-optic Dysplasia, which he says helps him to empathise to an extent with the challenges these veterans must overcome.
Michael said: "The stresses in the creative process are amplified with the addition of sight loss. It's about finding a gentle way to help folk keep going and pushing them forward.
"Our lighting in the art room is optimal. We've also got task lamps. We enlarge any reference images, so we try and help out as much as possible. We're giving them the ability to work pragmatically but also with that freedom with growing confidence.
"They're taking on new techniques, and we're working with people who genuinely want to create and are interested in working to bring their own visions to life. It's lovely to see them flourish and see their ideas come out of their heads and onto the canvas.
"We wanted to get a broad range of expressive pieces that were quite different for this exhibition to illustrate what goes on in the Hawkhead art room. Not just in medium, but also in personality."
And the artistic process and art room camaraderie is also helping many of the veterans discover newfound self-confidence as they adapt to life with sight loss.
National Service veteran, John Gillies, 86, of Johnstone, has macular degeneration, and says, "it's made life better".
John said: "Now I'm painting things from my imagination. It's helped me feel confident within myself. Everybody disappears into their own world when they're painting and becomes themselves.
"Before coming to the centre I was in the house not doing anything. I've seen the difference since coming here – I have a lot of friends and people to talk to.
"I think it's great to promote what Scottish War Blinded does and how they help us through this exhibition."
Rebecca Barr, Director of Scottish War Blinded, said: "We're delighted that these Scottish War Blinded veterans have been given this opportunity to display their impressive work within such an important cultural venue. We hope that visitors to the Kelvingrove Museum will be inspired by this exhibition and the way in which these individuals are overcoming the challenges sight loss can bring.
"The veterans' achievements in the Hawkhead Centre art room are just a taste of various types of activities and support Scottish War Blinded can offer veterans who have a visual impairment. From social opportunities and one-to-one support to the provision of specialist equipment and training, there are many ways we can help veterans to adapt to life with sight loss." 
Chair of Glasgow Life, Councillor David McDonald, said: "Scottish War Blinded play a hugely valuable role offering those affected with slight loss an opportunity to try something new and explore their creative side. We are delighted to host their exhibition at Kelvingrove Museum. We hope it will inform people of the group's worthwhile work and, for those who may need it, act as a signpost towards the services that are available. I think everyone should be very proud of what they've achieved.
"We worked with Scottish war Blinded on our recent display Frank Brangwyn in World War I: Art in Aid of Blind Soldiers and Sailors, which illustrates the experience of a soldier in World War I who went to war and was blinded on the battlefield. We are grateful for their support in ensuring the display is accessible to the blind and visually impaired community. This is one element in a growing programme of exhibitions, events and activities that aim to make disability more visible in the city's museums and ensure equal access for all."
Scottish War Blinded gives free support to former servicemen and women of all ages, no matter if they lost their sight during or after service.
Visit www.scottishwarblinded.org or call 0800 035 6409 to refer a veteran to the charity.