Please note that as of October 2020, we now operate as Sight Scotland Veterans. Our former name, Scottish War Blinded will appear in content, such as reports, produced before that date.
Press release
A blind veteran from Fife has been shortlisted for the 'Role Model of the Year' award in this year's Scottish Veterans Awards.
The charity Scottish War Blinded nominated former RAF Leuchars Avionics Engineer, Garry Cowan, for the prestigious award, in recognition of his inspirational mentoring work with fellow veterans with sight loss.
Image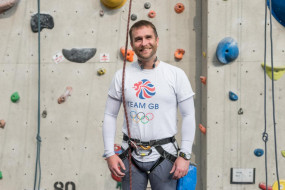 Garry, 38, from St Andrews, had to learn to walk again after he broke his back in a parachute jump in 2003 and he lost his sight completely in 2015 after contracting chicken pox.
Determined to keep living life to the full, Garry took up paraclimbing three years ago and rapidly became an elite climber. He competes at national, European and international levels and is ranked number one in Scotland and number two in the UK in the B1 paraclimbing category.
Since 2018, he has been mentoring veterans of various ages with a visual impairment who, like him, are supported by Scottish War Blinded. He has introduced many of them to paraclimbing, coaching and supporting them to become confident climbers.
Last year, the veteran even organised the first Combined Veterans Climbing Week – an event supported by Scottish War Blinded and Blind Veterans UK, which brought together veterans with sight loss from across Scotland, Wales and England for an intensive week of climbing activities at Edinburgh International Climbing Arena in Ratho.   
Commenting on the announcement that he has been shortlisted as a finalist for the 'Role Model of the Year' award in the Scottish Veterans Awards, Garry said: "I feel very taken aback and very thankful for this recognition for what I've been doing.
"It's really nice to hear the feedback from the Scottish War Blinded veterans and to hear how they are moving forward and getting on with life. From meeting them all on day one and individuals saying they couldn't do it, to looking at all they've done now, it is really heart-warming." 
The veteran says he is also driven by the determination to raise awareness of the support networks available to his fellow veterans.
Scottish War Blinded's veterans and staff have been overwhelmed by the huge lengths Garry takes to support his fellow veterans through his paraclimbing training.
He has also shared his personal experiences of his sight loss and sporting success at Scottish War Blinded's annual membership wide event, inspiring veterans with sight loss of all ages to reach their own goals.
Rebecca Barr, Director of Scottish War Blinded, said: "Garry has come through the life-changing challenges of complete sight loss with a can-do attitude that is nothing short of inspirational to us all at Scottish War Blinded – staff and veterans alike.
"His actions and determination demonstrate that it is not only possible to adapt to life without sight, but also to discover new activities and skills, and achieve personal goals – whatever they may be.
"Garry's Combined Veterans Climbing Week instilled a passion for climbing for those who took part, many of whom had never even considered they would be able to take part on the sport before meeting him though the charity."
Garry will learn if he has won the coveted award in April. He is now busy planning for the next Combined Veterans Climbing Week, to take place later this year.