Michael is a volunteer art tutor at the Hawkhead Centre in Paisley – an activity hub for veterans with sight loss. He started in the role in June 2018 and now supports veterans in its art space three days a week.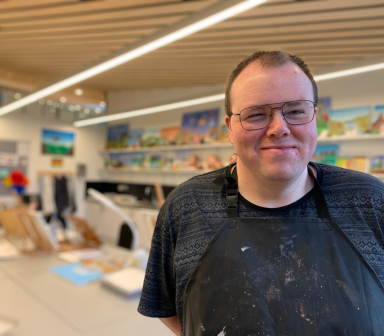 How Michael makes a difference at Sight Scotland Veterans 
Michael's volunteer post sees him support veterans who have been creative before sight loss and need some help to get back into their hobby, as well as veterans starting their creative journey at the Hawkhead Centre. He supports the service users on a one-to-one basis to help them develop their creative skills post sight loss and also runs group workshops.
Michael said: "The stresses in the creative process are amplified with the addition of sight loss. It's about finding a gentle way to help folk keep going and pushing them forward.
"Our lighting in the art room is optimal. We've also got task lamps. We enlarge any reference images, so we try and help out as much as possible. We're giving them the ability to work pragmatically but also with that freedom with growing confidence.
"The veterans are taking on new techniques, and we're working with people who genuinely want to create and are interested in working to bring their own visions to life. It's lovely to see them flourish and see their ideas come out of their heads and onto the canvas."
Michael was instrumental in orchestrating an exhibition of Scottish War Blinded veterans' art work at Glasgow's Kelvingrove Art Gallery and Museum's community space in February 2020. Michael worked with all the veterans involved in the exhibition.
The exhibition, featuring a selection of their paintings and sculptures, embodies each veteran's personal journey of overcoming apprehensions about creating with sight loss.
Michael said: "We wanted to get a broad range of expressive pieces that were quite different in this exhibition to illustrate what goes on in the Hawkhead art room. Not just in medium, but also in personality."
Veteran Gerry McAuley has glaucoma, which has left him blind in his left eye. He has been supported by Michael to pick up a paintbrush and had his work exhibited at Kelvingrove.
Gerry said: "Art makes your mind work and challenges you. Before I came to the Hawkhead Centre, I never thought I'd be able to do it.
 "With my sight I find it difficult when it comes down to fine detail, also due to my hand being a bit shaky. But you're the painter, you can do what you want."
Michael has a visual impairment himself, resulting from the condition Septo-optic Dysplasia, which he says helps him to empathise to an extent with the challenges these veterans must overcome. Michael's visual impairment means he unfortunately cannot work.
As a volunteer art tutor, he says the role at the Hawkhead Centre allows him to 'live his dream' in a supported environment, with the team giving him support whenever it's needed.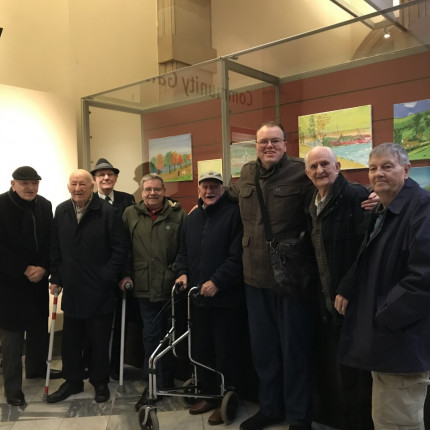 "What's lovely about volunteering at the centre is that it's a very safe, nurturing and welcoming place which really drives me to get involved. I love being part of the Hawkhead Centre team."
Contact us
Get in touch today to find out more about Sight Scotland Veterans and the support we provide to veterans with sight loss.
You may also be interested in