World War II veteran Jean Smart has always appreciated smart equipment – whether it's a spill-preventing one-cup kettle she uses these days, or the magnetic stick she used to chart the path of flying bombs.
Jean served in the RAF from 1942 to 1946. Volunteering at the age of 18, she had originally enquired about the Women's WRENS, but, as she jokes, she changed to the RAF because "I didn't like the WRENS hat". Incidentally, the hat's design changed later.
In July 1942, she trained as a plotter at RAF Woodvale near Liverpool and learned to listen to the Royal Observer Corps' reports from sites throughout the country. Jean's plotting skills were soon required in the south of England.
As Jean describes: "There wasn't much activity at first, but then in 1943, Hitler brought out his special weapon, the Doodlebug flying bomb. I was sent to the Biggin Hill Ops Room in Kent, along with several others from Woodvale. My job title was Clerk, Special Duties."
The Doodlebugs were launched from Calais and aimed at London.
"It was the first missile ever and several of them were sent over each day and night. You could see them quite clearly in the sky, with very small wings and a flame coming out the back. They sounded like motorbikes, and I hate motorbikes for that reason. If the engine stopped, you knew they were nose-diving, or they would glide.
"Although they were aimed at London, many ended up dropping in Kent."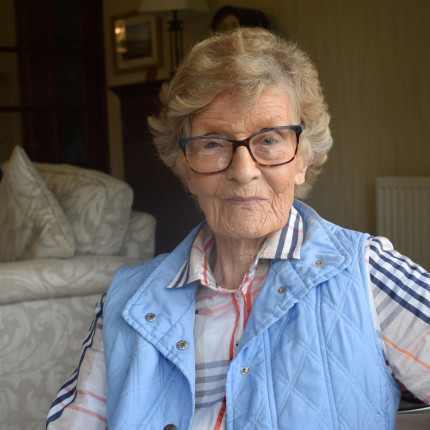 Biggin Hill Ops Room
Due to damage from aerial bombing, the Operations Room at Biggin Hill aerodrome moved to a large country house near Farnborough, which had been altered into the new ops room. Jean and her fellow clerks were billeted near Farnborough, in a lovely bungalow.
"We did day shifts at the Ops Room, and also night shifts. You did nightshifts for a spell of time. You were supposed to sleep in bed all day, but you never did."
The Biggin Hill Operations Room looked just like its portrayal in movies. A large table-sized map of South England took up the centre of a room, and senior officers stood one level up, looking down on the map from inside a glass box.
As Jean describes: "There were several of us on each shift, and our job was to pick up reports from the Royal Observer Corps. For example, I'd hear 'Flying bomb, bearing 625'. I'd listen for reports from two other Royal Observer Corps and when the three points joined, that was the missile's position.
"We would push the arrow markers about on the map, to give the position. The sticks had magnets at the end, which the arrow would stick to. You'd release the arrow by lifting your thumb up [which removed the charge from the magnet]."
"The controller would call up the Spitfires to intercept the Doodlebugs. Once it had passed over us, there wasn't much you could do."
Jean remembers reports of incoming Doodlebugs being quite frightening.
"When we heard a report of a Doodlebug coming, we'd put our helmets on and hope for the best. You just took it in your stride. Everyone was in the same boat. I think my upbringing had been, you had a number on you. You had a time you were born, and there was a time you would die. That was the attitude I'd had."
A time of service
Many of Jean's family and friends played a part in Britain's war effort, either in a reserved occupation or in the Armed Forces. Jean's future husband Jim and her brother Douglas both served in the Royal Navy– and both served on the Arctic runs.
As Jean describes: "Jim was on the worst voyage which went up the Norwegian Sea and Arctic Ocean to Murmansk in Russia. But Jim was lucky: he never got his feet wet. Jim never got torpedoed. Douglas was on a corvette called Rhododendron. My other brother, Noel, was a Chaplain in the Black Watch."
"Jim and I weren't married then; we just knew each other. He was demobbed before I was."
After the war
As the tide of the war swung in favour of the Allies, Jean and her fellow clerks were no longer needed at the Ops room. But Jean took on a new responsibility: "They asked if I'd like to go into the Met Office. They asked, 'Have you got a strong mathematical mind? We were fibbers and said 'Of course!'
"I spent the rest of my RAF career doing forecasts for pilots flying over to Goose Bay in Canada, until I was demobbed in October 1946."
Jean lived in Edinburgh with her husband, Jim, and had a happy marriage. In 1996, she moved to Dowding House in Moffat, which was sheltered accommodation for RAF veterans and more recently for veterans from all of the Services. She now lives in Moffat with a family member.
Equipment from Sight Scotland Veterans that's making a difference
These days, in her 99th year, Joan experiences macular degeneration, which severely impacts her sight.
Jean explains: "I don't see faces properly. I can't see details, but I can still see them. Before I heard about Sight Scotland Veterans, reading was difficult. It became a trial doing my crossword. And reading my newspaper, that's what I missed."
However, now the former RAF clerk uses practical equipment supplied by Sight Scotland Veterans to mitigate the challenges her macular degeneration causes her.
She uses an electric magnifier called the Explorer 6 to read letters and the TV guide.
"I use a lamp for supper at night, because the more light I have, the better I can see. I have a better idea of what I'm eating," Jean says.
Jean uses a special one-cup water kettle appliance, which helps prevent spills and burns.
"You just put your cup under the one-cup kettle and push a switch. It pours exactly one cup of boiling water. So you don't have to worry about boiling water spilling over, when you're making a cup of tea. These have all made a tremendous difference to my daily life," she says.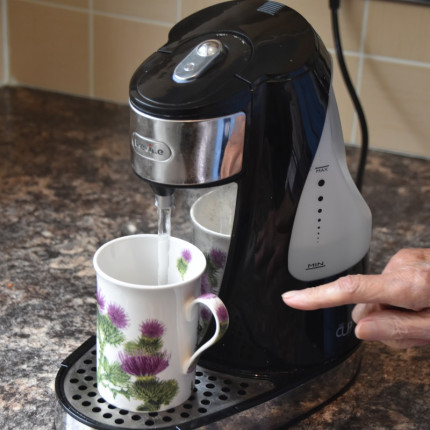 Memories
Jean sometimes reminisces about friends she made during the war – friends she kept for life.
"We were Fighter Command 11th Group, in the south of England, in bomb alley. Friendship was the main thing getting through the war. I don't remember one of us having an argument.
"All of us had one thought at that time, and that was, to win the war. Several of my friends lasted until their late 90s. They were very good friends who lasted a lifetime with me. We were a delightful crowd of girls and we all got on very well indeed," Jean says.
Reminiscing about the war, Jean shares that she feels very honoured to have worked for Lord Hugh Dowding, Head of Fighter Command, and Sir Winston Churchill – both of whom she admired enormously.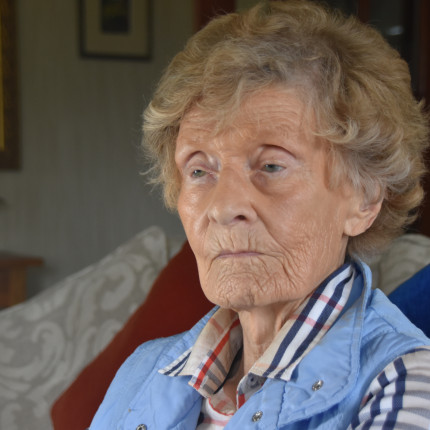 Are you or someone close to you a veteran with sight loss?
We are here for all veterans with sight loss and those close to them. Get in touch today for free advice and support.