Please note that as of October 2020, we now operate as Sight Scotland Veterans. Our former name, Scottish War Blinded will appear in content, such as reports, produced before that date.
Press release
A group of veterans with sight loss have experienced the joy of horse riding with the support of charity Scottish War Blinded and Tannoch Stables in Cumbernauld.
Some of the veterans saddled up for the very first time, never having thought they would have the opportunity to give riding a go – especially after losing their sight.
The group, who all regularly attend Scottish War Blinded's activity hub in Paisley, the Hawkhead Centre, have now even completed their RDA Riding Proficiency Test at Grade 2 as a result of the sessions.
Image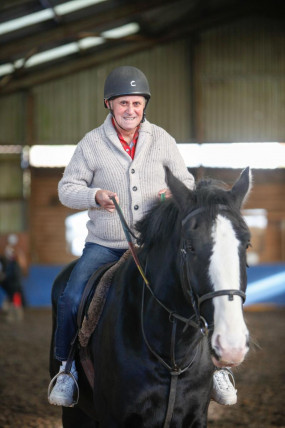 It was veteran John Currie, 76, of Greenock, who suggested to Hawkhead Centre staff that they offer riding as a day outing option, and he was delighted the charity were able to organise the activity with Tannoch Stables.
The Royal Engineers reservist, who lost an eye in 1977 to glaucoma, says horses helped him through his "darkest days" after sight loss – and he was keen to share the benefits of riding with fellow Scottish War Blinded veterans.
John, who first took up horse riding in his twenties, said: "When my sight started to go and I lost an eye, for a long time I just gave up. But horses saved my life and my sanity. Horse riding helped me get my confidence back. It's very therapeutic. 
"A couple of Scottish War Blinded veterans at the Hawkhead Centre mentioned that they had always wanted to go on the back of a horse and it's mushroomed from there.
"I'm really glad this came into being. I wanted some of the other veterans to get something out of it like I have. I can see how happy they are with the horses, that's how I was with them when I was in my darkest days.
Image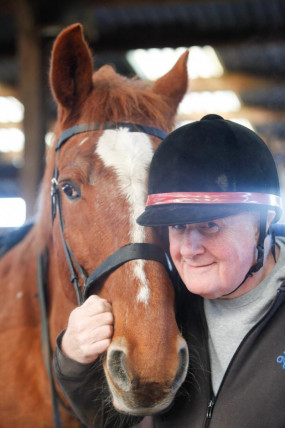 "I'd thought my time on the horses was over when I lost my sight, but no. I have no peripheral vision but I have a wee letterbox of vision in the distance, which is great for horse riding. And the horse doesn't know you have sight loss.
"The staff at Tannoch Stables have been very good with us too."
Some of the veterans have overcome initial nerves at the prospect of riding such large animals, particularly with limited vision, to experience flourishing confidence.
Stewart Campbell, 81, from Paisley, has glaucoma and had never been on a horse before the sessions. 
Stewart, who served National Service with the Royal Engineers, said: "I've always loved horses, but I never learnt to ride. I was on the biggest horse, I was a bit wary about it to start with, but it was fantastic. It was great to have the opportunity."
Martin Lindsay, 87, of Port Glasgow, says horse riding was one of the things on his "bucket list".
Royal Artillery National Service veteran, Martin, said: "In my second session I wanted to try and do better, without the fear or the nervousness. I haven't got rid of it yet, but it's a lot better.
"Attending the Hawkhead Centre means that I'm not staying in the house. It gets me up and gets me out of the house on a Tuesday and Thursday. You meet a lot of people. I'm trying things I haven't tried before, and I'm more confident because of it."
And Eddie McKay, 62, from Greenock, who served with the Royal Engineers and was diagnosed with glaucoma in 2007, says the Hawkhead Centre staff are always opening up new doors for him and taking Scottish War Blinded members' suggestions on board.
Eddie said: "I've really enjoyed coming to the stables. It's brilliant. It really builds your confidence up. I hadn't been on a horse for years and years, but as soon as you've been on a couple of minutes the confidence just comes back and you're alright.
"I would never have thought of coming here on my own, that's what's great about Scottish War Blinded and the Hawkhead Centre."
Scottish War Blinded's Hawkhead Centre provides a hugely varied programme of activities and day trips for veterans with sight loss, with everything from archery and cookery to art and woodwork.
And with the horse riding sessions proving to be a hit, the Hawkhead Centre staff are hoping to arrange further sessions for more veterans with sight loss at Tannoch Stables soon.
Rebecca Barr, Director of Scottish War Blinded, said: "Sight loss does not mean that you have to stop trying new things. Scottish War Blinded are dedicated to supporting veterans with sight loss across Scotland to reclaim much-loved hobbies and keep on having new experiences. From providing specialist equipment to make hobbies possible again, to linking up with other organisations and providing transport and support, there are many ways we can make it happen.
"We are always open to activity ideas from our veterans, so we were delighted we were able to organise John's suggestion of some horse riding sessions. It's amazing to hear how the group's confidence has grown."
Dawn Harrison, of Tannoch Stables, said: "Although many of the Scottish War Blinded group were apprehensive at first, it did not take them long to enjoy coming to Tannoch. To see their confidence rising was a joy to behold. "