Please note that as of October 2020, we now operate as Sight Scotland Veterans. Our former name, Scottish War Blinded will appear in content, such as reports, produced before that date.
Veterans with sight loss were delighted to welcome soldiers from the 3 RIFLES to Christmas celebrations at the Linburn Centre this month.
On Thursday, December 13, Scottish War Blinded's activity hub in West Lothian hosted over 90 veterans and their guests as they got into the festive spirit for the first of two Christmas parties.
Image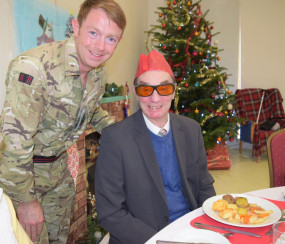 This year, the Scottish War Blinded members were delighted to be joined by soldiers of 3rd Battalion, The Rifles (3 RIFLES), who kindly helped with proceedings on the day to ensure all had a fantastic time.
Their buglers put on a stirring performance, before the soldiers helped to serve the veterans with a delicious three-course Christmas meal.
Over dinner, the Scottish War Blinded members very much enjoyed the opportunity to exchange service stories with their visitors.
With bellies full, the musical entertainment continued – first with a set from musicians of Music in Hospitals and Care Scotland.
And finally, the Balaklava Pipes and Drums – the band of the Argyll and Highlanders Regimental Association, got toes tapping with some much-loved Scottish tunes.
Linburn's second Christmas party, enabling even more Scottish War Blinded members to have their slice of festive fun, takes place this week.