Please note that as of October 2020, we now operate as Sight Scotland Veterans. Our former name, Scottish War Blinded will appear in content, such as reports, produced before that date.
Press Release
A former World War Two telegram boy has recalled memories of life in wartime Glasgow to mark the 75th anniversary of VE Day.
Maryhill born Harry Burns returned to his home city from the safety of evacuee life in Aberdeenshire in 1944, aged 14. Within days he started work, delivering telegrams with news of loved ones to families in Glasgow's West End.
Assigned to the main post office in Glasgow, young Harry had to quickly master navigating the big city with the heavy responsibility of delivering such life-changing personal messages.  
"I think I knew about two or three streets then - a couple around where I lived and Sauchiehall Street, that was it," said Harry, now aged 90.
"I started delivering around Byers Road in the West End and eventually moved up into the Maryhill area. Some of the older boys delivered on motorbikes, but I was just on a pedal bike. There was a man at the post office who gave you the runs for the telegrams, he was great fun. He was a bit of an alcoholic, and he used to direct us to each address by telling us which pubs to look out for. 
"When the war was winding up we were getting a lot of Ministry of Defence telegrams. A normal telegram envelope was about three inches by two inches, but the MOD ones were a fair bit bigger with a blue band and 'priority' written on them. Some messages were good news, some were bad.
Image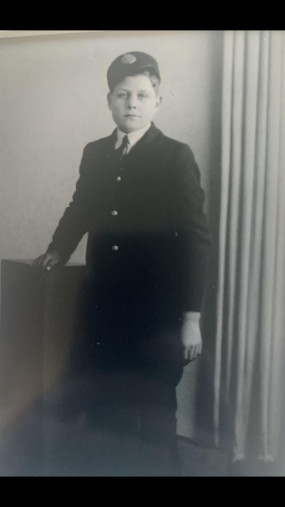 "The recipients opened the messages on the doorstep when you handed them over to them. I remember a time delivering to a mother in a tenement building. I knocked, she came to the door and when she opened the telegram she fainted. I rang round the doors to get people to help her. After that I developed a system whereby instead of knocking on the right door first, I would knock on the doors nearby to tell them there was a telegram and to warn them they may be needed.
"It was strange. Some had reactions like that, but with others it was like a certain calm came over them."
MOD telegrams came through thick and fast as the war in Europe neared its end. Harry says his job "played on his mind" at such a young age – particularly because many mothers and wives insisting on giving him a tip for bringing them news.
Harry said: "Some would give you a ten-shilling note or a pound note. I think it was the relief to know what had happened to their loved ones. For some it was good news, or that their husband or son had been discovered alive in a POW camp. And for others, the news that they'd be killed. It did play on my mind. 
"One time in particular, I remember like it was yesterday. The post mistress said to me that she wanted me to deliver a telegram to the mother of one of the boys I worked with, Alec, who was the same age as myself. She told me that if she wasn't in, to put it through the door. Mostly we tried to deliver in person. 
"She wasn't in so I had to post it. Later I saw Alec, and he had a ten-shilling note for me from his mother. We had a fight over it because I didn't want to take it, and he said he couldn't take it home.The post mistress came out, took the note from Alec and told me to take it because his mother had send it for me. She told Alec to go home. His brother had been killed. That's really the one I remember."
Harry's experiences as an evacuee in the earlier war years were a stark contrast to life in Glasgow. In 1939, he and one of his brothers and sister were sent away to Strathdon, Aberdeenshire, where they lived with a "beautiful" family on a huge farm and attended the local school.
Shielded there from the dangers of war, life under German attack was brought into jarring reality for Harry and his siblings when they briefly returned home to Maryhill in 1941, just days before the Clydebank blitz.
"I remember, at our house there were a set of steps up to the door, and we just sat there watching the blitz," he said. "It was right in front of us. You could see the shells and planes coming in. 
"I would have been ten-and-a-half then. We found a shell head between the two blocks of houses on our street. We were just boys so it was all like a movie to us.
"The next day, my father was on the phone, and the day after that we were straight back up north on the train. I was up in Strathdon then until I left school at 14. We kept in touch with the family we'd stayed with. We had a box we used to send up by rail to the farm, and they'd send it back with butter, cheese and eggs. They were family to us and I stayed life-long friends with one of the sisters, Janet. She was like a sister to me."
Aged 16 as the war drew to an end in Europe, the father-of-three fondly recalls the joyous atmosphere and feelings on VE Day in Glasgow.
"VE Day was a wonderful day," he said. "Everybody was out and leaving their work. I'd finished up in the office in the town, and George Square was just a mass of people. Anybody who could play an instrument was doing it and there was dancing everywhere. I just joined in! I remember I had to walk home from George Square because the trams were off."
Harry moved into an electrician apprenticeship before he was called up for national service with the RAF. When a perforated ear drum led him to be discharged, he returned to Glasgow.
He now lives in Rutherglen, and is determined to keep his independence in spite of his sight loss. The National Service veteran is supported by Scottish War Blinded. The charity's staff are currently supporting all its members remotely via telephone and email during the coronavirus pandemic, ensuring all have help in place and keeping spirits high with social phone calls.
Scottish War Blinded gives free support to former servicemen and women of all ages, no matter if they lost their sight during or after service, including National Service. For more information about the support offered to veterans with sight loss call 0800 035 6409 or get in touch online at www.scottishwarblinded.org.