Sam Alexander, 83, was diagnosed with macular degeneration in 2016. Following a bleed in his right eye he now has very poor sight.
Sam became a member of Sight Scotland Veterans in 2018 after discovering he was eligible for support from the charity as a National Service veteran with sight loss. He served with the Royal Air Force as a Senior Aircraftsman from 1955 to 1957 and saw active service in Aden during the Suez Canal crisis.
The veteran – an aeroplane enthusiast – was left feeling "very low" and "isolated" after losing his driving license due to his poor vision, which cut him off from socialising in person with model aircraft racing friends in England.
But since joining Sight Scotland Veterans, the charity has provided him with free specialist equipment after an assessment and training with its rehabilitation team. He also receives one-to-one support from his local Sight Scotland Veterans outreach worker, who visits him at home regularly and offers expert advice to help the veteran get back on track.
Sam said: "With my sight loss, the biggest problem that I had was losing confidence in myself. At the time I felt very insecure. I was quite nervous about going outside on my own.
"I felt more comfortable after my outreach worker Carole's first visit. Everything has to be enlarged now for me to read, so she brought me various magnifiers. I now have a CCTV reader at home to read my model aircraft magazines. It has been so helpful to me.
"Sight Scotland Veterans have also given me a Synapptic tablet. On a normal computer I was struggling to see letters, but the tablet is fine because the letters are quite big and it speaks to you too. It's amazing. I can now visit forums with videos of meetings for those that can't get out anywhere for racing. I can start connecting, which is great.
"It's essential to have that help, because you're absolutely lost without it. I feel a lot better now."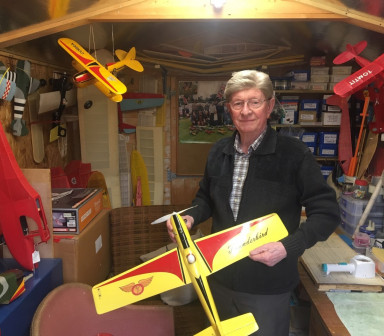 "Feeling isolated is a big thing with sight loss. With Sight Scotland Veterans, you feel you're part of an organisation that can help you if you need it. It's a cushion. I can just pick up the phone and ask Carole about anything and she'll tell me."
You may also be interested in
Learn more about how Sight Scotland Veterans' expert rehabilitation team could support a veteran with sight loss you know to regain and maintain their independence.
We provide the space and opportunities to give veterans the chance to exchange experiences, ideas and gain new connections.