Royal Air Force veteran Jim Archibald is supported by Sight Scotland Veterans and has regularly attended the charity's activity hub for veterans with sight loss, the Linburn Centre, for the last three years. Jim has the age-related sight condition macular degeneration.
Since joining Sight Scotland Veterans, he has received training in using digital technology. The charity has also provided him with a tablet with Synapptic software – specifically adapted for people with sight loss, including in-built audio and magnification features.
Jim said: "I started having problems with my sight about seven years ago. You can't read newspapers you can't drive anymore, and you become more dependent on your wife and family.
"After the forces I worked as a policeman, and back then everything was mainly done in writing. Sometimes a wee bit of typing, but that was it – technology hadn't really been part of anything for me before. I'd been interested in technology but when I started coming to the Linburn Centre my learning escalated. I didn't know there was such a thing as Synapptic technology, it's not something that had been brought to my attention before. "When I first came to look around the centre I saw the touchscreen technology demonstrated, and that hooked me. I was given my Synapptic tablet probably about three months after I started attending the centre and it's been a new world for me.
"It's really good to be able to keep up with the latest things that come out. I use my tablet everywhere and I'm never off the web browser! "I had never used the internet before joining Sight Scotland Veterans. Now I can look up all the football results, get the news, use it to take pictures of family, check on the weather reports, find recipes, and I can use it as a magnifier which I think is very good – it can help you to see what's on your prescriptions or use by dates on food. I can also use it to watch TV and films and listen to radio.
"I'm also now using it for social media to keep in touch with my family and friends, it really is fantastic. I can take it up to bed with me and if there's something I might not remember in the morning, I can use the Notepad function as a reminder.
"I find Synapptic software quite easy to use. The whole world is in there, no matter what you want to use it for. It helps me to feel much more connected, without a doubt. It's an essential piece of equipment for me now. I would say being able to use my tablet almost replaces my driving in feeling like I'm getting independence back.
"It's been life changing to me. Brian, the IT instructor at the Linburn Centre, has been excellent in training me. He's a very educated man and he's very patient. I've had all the support anyone could need. They are all very helpful, it's been really great. "I have started teaching others at the Linburn Centre how to use Synapptic tablets and Smartphones. I'd found it quite easy to learn thanks to Brian, and wanted to help others. Who would have thought I would even be teaching others about digital technology? It's a good feeling to pass on what I've learned.
"Life would have been so much more empty if I didn't have the charity's support and the Linburn Centre to go to. I have so many friends since I started going to the centre."
Find out more about Sight Scotland Veterans' digital technology support for veterans with sight loss.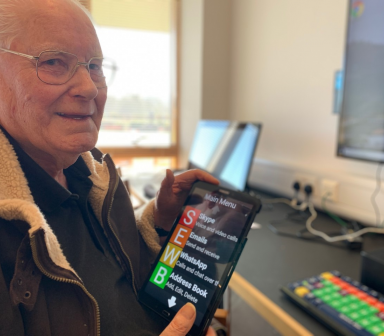 Contact us
Get in touch to find out more about our services and whether we can help you or a veteran with sight loss you know.
You may also be interested in
For more than 225 years, we have been supporting people with sight loss and blindness. We are one of Scotland's oldest charities and we're dedicated to empowering people with visual impairments to lead fulfilling lives.
Sight Scotland Veterans' West Lothian-based activity hub for veterans with sight loss.
Learn more about how Sight Scotland Veterans' expert rehabilitation team could support a veteran with sight loss you know to regain and maintain their independence.